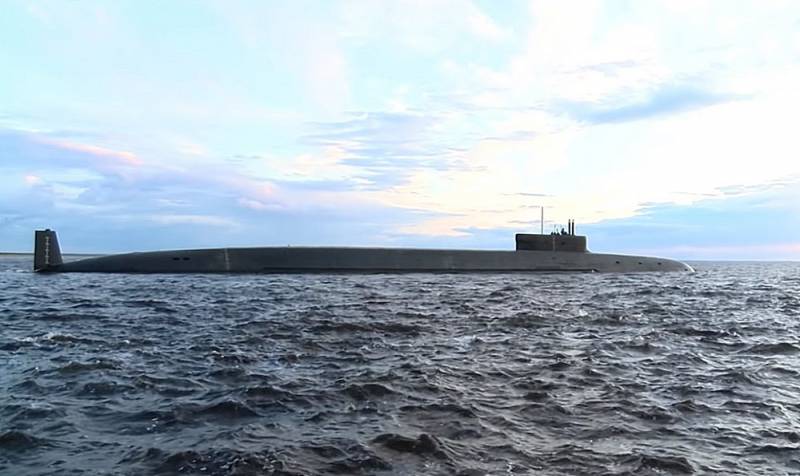 The fourth-generation Russian strategic nuclear submarine K-4 "Prince Vladimir" (project 549A "Borey-A") is the best submarine of the Russian Navy, reports the American online edition of The Drive.
The publication recalls that the Russian nuclear submarine is now at the final stage of state testing in the White Sea before being put into service in June 2020. It is clarified that "Prince Vladimir" received a number of improvements that allow him to be much quieter and much faster to move under water. We are talking about a water-jet propulsion system and a sound-absorbing coating.
In turn, the press service of the Northern Fleet explained
TASS
that the strategic missile submarine cruiser "Prince Vladimir" began to undergo the underwater part of the tests in the White Sea.
Tests of the cruiser under water are provided by two tugboats of the White Sea Naval Base and the rescue ship Mikhail Rudnitsky. During the tests, the acceptance commission of the plant together with the crew checks the quality of the elimination of previously identified comments and the operability of all systems and mechanisms of the submarine
- declared in the Federation Council of the Russian Navy.
It should be noted that from May 12, 2020, the nuclear submarine was tested in the surface position. The crew checked the submarine's driving and maneuvering qualities. If "Prince Vladimir" passes a control exit to the sea, then it will be included in the Northern Fleet and sent to a permanent base on the Kola Peninsula.
"Prince Vladimir" - the first submarine, built on the updated project 955A. The submarine was launched in November 2017. The main armament of the nuclear submarines is 16 solid-fuel ballistic missiles R-30 Bulava (RSM-56), which brought the striking power of the marine component to a whole new level.
It should be added that the Russian Navy already has three nuclear submarines of Project 955. These are the K-535 Yuri Dolgoruky, the 31st DiPL Navy, as well as the K-550 Alexander Nevsky and K-551 Vladimir Monomakh, as part of the 25th DiPL TOF.
At the different stages of construction at Sevmash there are four more Borea-A: Prince Oleg, Generalissimo Suvorov, Emperor Alexander III and Prince Pozharsky. In addition, a contract was signed for the construction of two more nuclear submarines of project 955A, which should be laid down already in 2020.