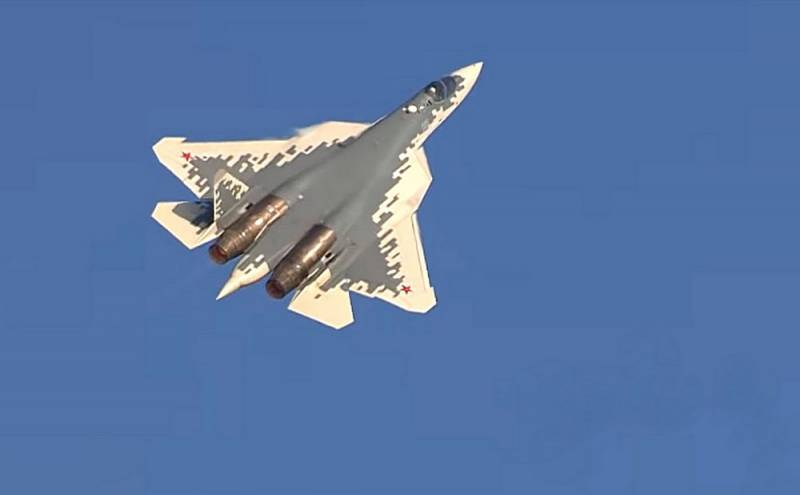 The Russian military-industrial complex does not stand still. A flying laboratory based on the fifth-generation multifunctional fighter Su-57 is already working out an unmanned mode. This was reported
RIA News"
source in the industry.
An unmanned mode is being developed on the basis of the T-50 flying laboratory. The pilot is in the cockpit during the flight, but only controls the performance of all functions
- said the source.
It should be noted that Su-57 fighters (factory T-50 index, according to NATO codification: Felon - "Criminal") are designed to destroy all types of air, ground and surface targets. Most of the information about the Su-57 is classified. Moreover, it is known that the Su-57 belongs to the class of heavy fighters, has stealth, supersonic cruising speed and the ability to maneuver with great overloads.
The Su-57 fighter first flew January 29, 2010. In 2013, small-scale production began for testing weapons, engines and equipment. On February 21-23, 2018, four Su-57s were transferred from Russia to Syria at the Khmeimim air base for testing in real combat conditions.
At the end of June 2019, the Russian Ministry of Defense signed a contract for the supply of 76 Su-57s as part of the Army 2019 forum. Then the Sukhoi Design Bureau reported that the Su-57 was launched into serial production.
But, at the end of December 2019 in the Far East, during the factory tests, he suffered
crash
the first production Su-57, which was supposed to be handed over to the Russian military. After that, the head of the Rostec state corporation Sergey Chemezov announced that deliveries of the Su-57 to the Russian Aerospace Forces will begin in 2020.