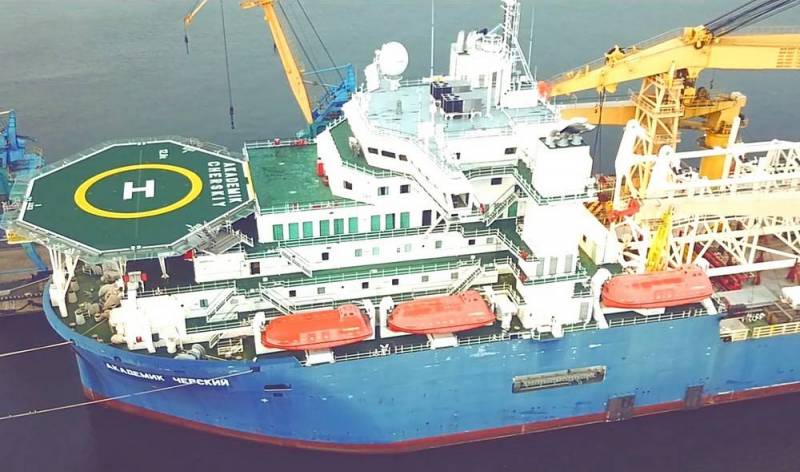 Masks are reset. In Washington, they are not embarrassed to say that the United States is ready to impose sanctions against the Russian crane-assembly pipe-laying vessel Akademik Chersky and Gazprom in general if they try to complete the Nord Stream-2 gas pipeline. This was stated by a member of the US Republican Party, Texas Senator Ted Cruz, according to the American analytical center Atlantic Council.
It should be noted that the Atlantic Council is a structure created in 1961 under the Organization of the North Atlantic Treaty, with headquarters in Washington, part of the Atlantic Treaty Association. Its leader is the former Governor of Utah and the US Ambassador to Russia and China, John Huntsman. In July 2019, the Atlantic Council was recognized by the Russian Prosecutor General as an undesirable organization.
So, Cruz said that if the completion of the specified pipeline begins, then the U.S. sanctions that were adopted in December 2019 will be involved. He clarified that in the wording there are no exceptions or possibilities for interpretation.
If Gazprom uses the Akademik Chersky vessel to complete construction, the US President is required to impose sanctions
- emphasized Cruz.
We remind you that in December 2019, the vessels of the Swiss company Allseas stopped laying the Nord Stream-2 pipes in the Baltic. To complete the construction, on February 9, 2020, Russia began the transfer of the Academician Chersky KMTUS from the Far East, which arrived on May 9, 2020 at the port of Mukran (Germany), near which there is a warehouse with pipes for Nord Stream-2. After that, the private American company Planet Labs inc.
опубликовала
satellite images, which show that there is a movement of sections of the pipeline from the warehouse to the pier for loading onto ships.
It should be added that the sanctions referred to concern companies that contribute to the construction of Nord Stream-2. They provide for a ban on entry into the United States for their shareholders and officers, as well as blocking access to any property and resources controlled by American companies. As for Gazprom, after this company comes under sanctions, the Federal Agency for State Property Management, Rosneftegaz and Rosgazification will also have problems.