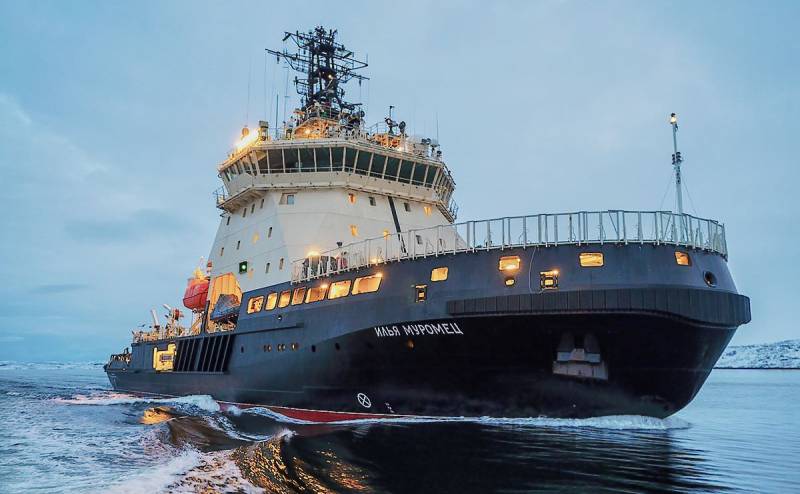 The US Navy's campaigns in the Barents Sea will not help Washington in the "battle" for the Arctic with Moscow, since it has nothing to oppose to 40 Russian icebreakers. This is stated in an article by an American expert, retired US captain Jerry Hendrix, published by National Review.
Washington has neglected the Arctic for a very long time and can no longer compete with Moscow for influence in this resource-rich region of the planet. Hendricks urged not to overestimate
campaign
US Navy ships to the shores of Russia, first committed in more than three decades, amid missed opportunities.
Four ships maneuvering in the ice-free Barents Sea will not cancel decades of neglect and lack of investment in the types of ships the US needs to protect its interests in the Arctic region
- he states.
Henders is confident that the US lacks the required number of icebreakers, as well as ships and ice-class vessels, making it impossible to implement Washington's plans to develop and use the shipping capabilities of the Arctic Ocean.
He pointed out that Russia does not miss its chance and strengthens its influence and power in the Arctic, constantly expanding its presence in this strategically important region. Moscow is actively exploiting the Northern Sea Route, thanks to which the path from Europe to Asia and vice versa is significantly reduced. Now Russia uses it to deliver LNG to consumers.
With 40 icebreakers in its arsenal, Moscow is ahead of all Arctic powers
- he added.
In addition, Russia plans to acquire nine new nuclear-powered icebreakers by 2035, some of which will be equipped with weapons designed for use in the Arctic. Russia has many ships and vessels of other types that can be successfully used in such harsh conditions. And now in the Arctic, no country can compete with Russia.
At the same time, the "equipment" of the USA upsets the expert. The United States has only three icebreakers. Moreover, only two are functional, "one heavy and one medium". And in the Arctic there are no naval bases from which operations in the region could be supported. At the same time, the number of submarines capable of operating in the Arctic is steadily declining. Therefore, the US needs to take urgent measures to finally keep up with Russia in the development of this region, the value of which will increase.