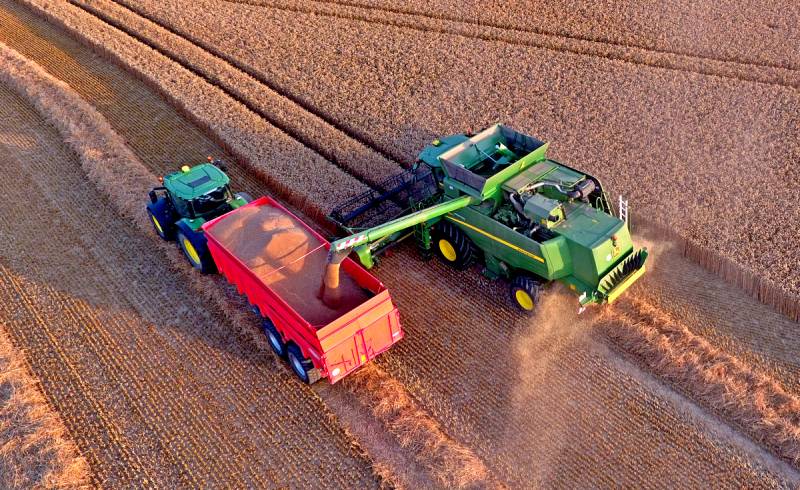 It seems that Russia is gradually returning to "tsarist" times when grain export was "our all". Well, oil and gas are getting cheaper, and wheat is getting more expensive. A ton of Urals brand oil cost 12,9 thousand rubles in March, and a ton of this grain - 13,3 thousand. At the same time, in the USA, a liter of gasoline at a regular gas station was cheaper than a liter of bottled water.
So can grain and other food products become our new "barrel"?
The general train of thought is understandable. Somehow you can do without a car or air travel, but without food and water - no way. The agricultural sector is one of the foundations of Russia's national security, along with the army, navy and nuclear shield. Food export is a promising area of ​​development
economics
, especially in a global pandemic. But here it is important to comply with the measure, not chasing the "long dollar" to the detriment of its own consumer.
We must pay tribute to domestic farmers: a few years ago, the Russian Federation bypassed the USSR record for collecting grain. This year, our country may be the third in the world in terms of wheat harvest after China and India and the first in its export, followed by the European Union and Canada. The US Department of Agriculture (USDA) calculated with interest that by the end of 2020, Russian farmers will collect up to 77 million tons of wheat, of which 35 million will be sold abroad. Another 39,4 million tons will fall to other crops: oats, rye, corn and others, of which 8,2 million tons will be exported.
So far, it's impossible to talk seriously about the full replacement of "black gold" with "gold grain" as a source of replenishment of the federal budget. A year ago, the country earned $ 6,4 billion on grain exports, and $ 121,4 billion on oil. But the barrel is now not the same as before. It will be interesting to compare statistics according to the data of the Federal Customs Service for 2020 with 2019.
Unfortunately, domestic farmers are faced with a number of problems that hinder the full disclosure of the potential of Russian agriculture.
At first
, the climate change process is having a negative impact. Due to the abnormally warm winter, the soil suffers from a lack of moisture, which will affect the yield of winter crops. In the southern regions of the country, crops are at risk of drought. Because of this, a marked decrease in yield is projected.
Secondly
, due to the devaluation of the national currency, the expenses of farmers for the purchase of imported plant protection products and seed stocks increased. Agricultural producers should pay close attention to import substitution in this area.
Thirdly
, even get Russia today a super harvest that will reliably cover all domestic needs; its export will not be able to increase dramatically due to infrastructure problems. Grain sales abroad traditionally go by sea, and the logistics capabilities of our ports are limited. According to experts, 40-50 million tons of grain is our real ceiling because of "sea traffic jams".
Nevertheless, the potential of Russian agriculture is great, and it can be of great help for replenishing the federal budget of the state.