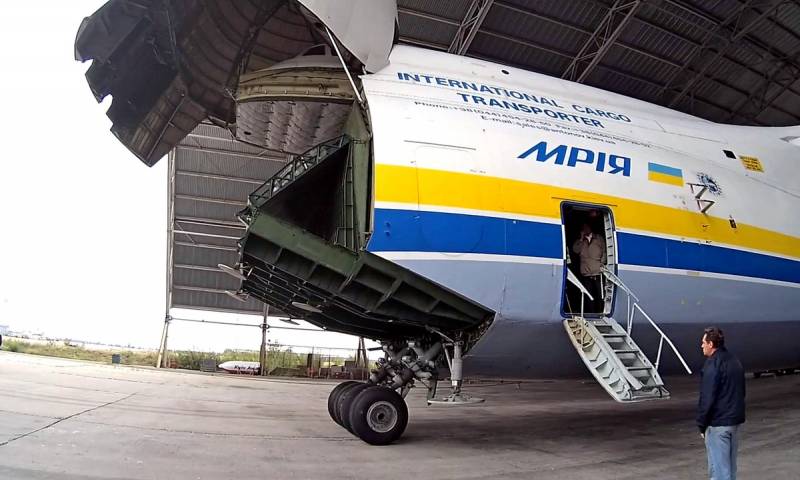 The famous Antonov airline, after breaking industrial ties with Russia, is in a deep systemic crisis. Turning away from Moscow, Kiev is now counting on Washington's help. The Ukrainian ambassador to the United States said that the manufacturer of aviation
equipment
looking for options for cooperation with the American corporation Boeing on the development of modern heavy aircraft, which is famous for "Antonov".
Where can these "mrias" (dreams) lead to Independent?
I hope that we will come to concrete agreements, not just a prospect, but signing documents and, possibly, even creating a joint venture between Antonov and Boeing
- said the Ukrainian ambassador.
In Kiev, they hope if not for the joint production of heavy aircraft, such as the An-124 Ruslan, then at least for investments from the American company. Unfortunately for the former famous Soviet airline, with a high probability all this will remain empty dreams.
On the one hand, the total global demand for such winged giants is relatively small, amounting, according to various estimates, from 40 to 100 cars, which, given modernization, may last for the next half century. On the other hand, it should be noted that the coronavirus pandemic has revealed the need for heavy cargo aircraft, with the help of which medical aid is quickly delivered around the world. Quite unexpectedly, the leaders in this area were Ukraine and Russia, operating an aircraft fleet of products under the Antonov brand, about which we detail
told earlier
. As it turned out, heavy aircraft are still needed not only in military transport aircraft.
In Kiev, they believe that they have something to offer Boeing in this matter, but this is not entirely true. The An-124, with all due respect to it, is a long-outdated aircraft using equally outdated equipment. In Russia, some time ago, the question was raised about the resumption of production of Ruslan under a new brand, but everything rested on import substitution, primarily in the power plant. Deep modernization of the An-124, which in Russia, and in Ukraine itself, will cost a pretty penny. It is not clear why Kiev decided that Boeing, which has experienced enormous financial difficulties in the last year or two, will be ready to allocate billions of dollars for the Ukrainian project.
In addition, there are questions to Antonov himself and his ability to actually produce something. The Ukrainian "optimizers" in power intend to transfer the plant from the capital, where it occupies expensive land, to the Kiev region. Transferring production to another place is always a very difficult task, and if it is also carried out by unclean characters, then it automatically turns into a long-term and financial "black hole". If you call a spade a spade, the reference of "Antonov" to the province is its long-term final elimination.
Today, a unique enterprise by and large is a service for servicing already manufactured aircraft and a package of Soviet drawings and patents for them. China has already laid a hand on the intellectual property of Antonov by purchasing documentation for the An-225 Mriya. All that Kiev Boeing can offer is the right to several outdated aircraft that need deep modernization. About any production of heavy transporters in Independent Speech simply can not go.
No one except Russia needs Antonov in working condition. This means that the Ukrainian enterprise will formally exist while the planes made by it earlier fly. After which it will finally cease its activities and will be eliminated.