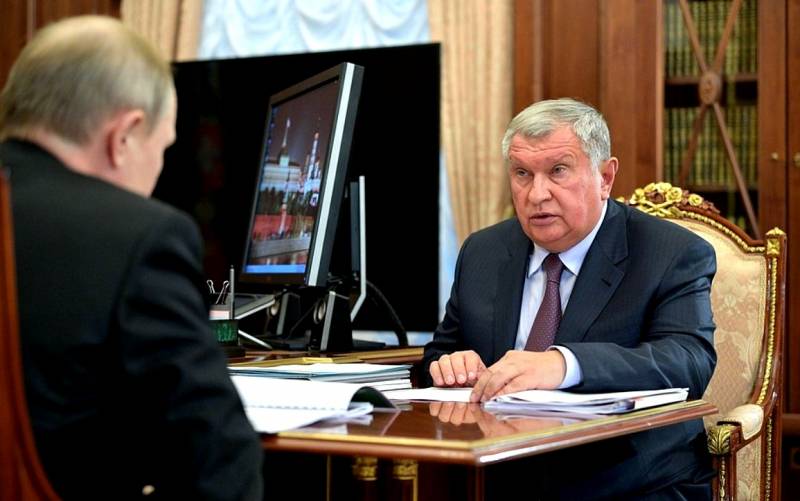 Gazprom may have a new competitor in the European market, this time domestic. Rosneft has taken another step towards becoming an exporter of not only "black gold", but also "blue fuel".
The head of the oil company Igor Sechin asked the government to provide incentives for developing hard-to-recover gas reserves. What can this step mean?
It is no secret that oil and gas production accompany each other. Rosneft is developing gas fields in our country, as well as in Venezuela, Vietnam, Egypt and Canada. The problem for the company is that only Gazprom has a monopoly on gas exports abroad. Rosneft and NOVATEK have long been pushing wedges on this topic, but so far only the right to sell LNG has been obtained. However, Igor Sechin and his foreign partners do not intend to give up.
At the beginning of last March, with the filing of the leadership of Rosneft and, according to Forbes, personally by Igor Sechin, the Kremlin refused to extend the OPEC + deal, which led to the start of a trade war with Saudi Arabia. Prices for hydrocarbons fell, our country lost billions of dollars in export earnings. The declared goal - the bankruptcy of American producers of shale oil - was not achieved. The result of this incorrect strategic decision was several times higher quotas for oil production in Russia.
Things on the black gold market are now not in the best way, so the company's top management has paid increased attention to the gas sector. Experts predict a repeat attempt by the oil company to gain access to the export pipe. Igor Ivanovich on the eve of the Cabinet of Ministers asked for benefits for the development of hard-to-recover reserves of the Berezovskaya suite. The potential of the field is estimated by Rosneft itself at 1,3 trillion cubic meters of gas. The head of the company wishes to reduce the MET rate to 0,21. This proposal is not fully evaluated.
On the one hand
, the federal budget will not receive serious tax revenues from mineral extraction tax during the crisis. Among the major co-owners of Rosneft are foreign companies QIA and BP, which receive enormous dividends with enviable constancy.
On the other hand
The emergence in Russia of alternative gas exporters to Gazprom can solve the problem of the norms of the Third EU Energy Package, which is extended to offshore pipelines. According to these innovations, 50% of the pipeline capacities of the monopolist should be reserved for some third parties. In our country, there is only one such person, Gazprom. Western sanctions themselves are pushing the Kremlin to liberalize the gas export market.