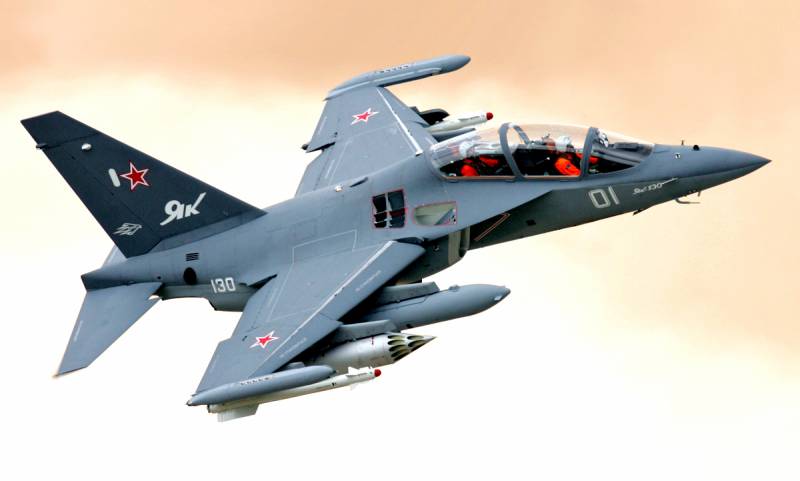 "Flying school desk" Yak-130 is increasingly subjected to "attacks" of American publications. But why, a training aircraft that has existed for several decades, came under the scrutiny of "experts" from the United States? There are reasons for that.
Initially, in the mid-80s, the Yak-130 was created in conjunction with the Italian concern Alenia Aermaccchi. Then the "tandem" broke up, and each went his own way: the Italians built the M-346, and the Design Bureau named after Yakovleva - Yak-130.
The uniqueness of our training aircraft lies in its control system, which is able to simulate the piloting of almost all modern fighters, including foreign Rafale, Eurofighter and even F-35. At the same time, the equipment of the Russian "flying school desk" allows you to perform aerobatics and fly at high angles of attack.
In the process of liquidation of the Russian-Italian enterprise, an agreement was signed under the terms of which our country could use its plane only for its own purposes. At the same time, Italy owned 2/3 of the global market for educational machines.
However, today the situation has changed dramatically. OKB them. Yakovleva began to create a light attack aircraft based on the Yak-130, which is a direct competitor to the modernized F-16 (USA). At the same time, the aircraft is exclusively Russian development and the above restrictions do not apply to it.
It is worth noting that our version of the attack aircraft is superior to the competitor from General Dynamics in a number of characteristics. So, the mass of the Russian Gauntlet (Yak-130 according to NATO classification) is 2 times lower, the price is 3,5 times less, and our combat vehicle is 5 times easier to maintain.
So the Americans are trying to discredit the Russian plane so as not to lose the cherished contracts.