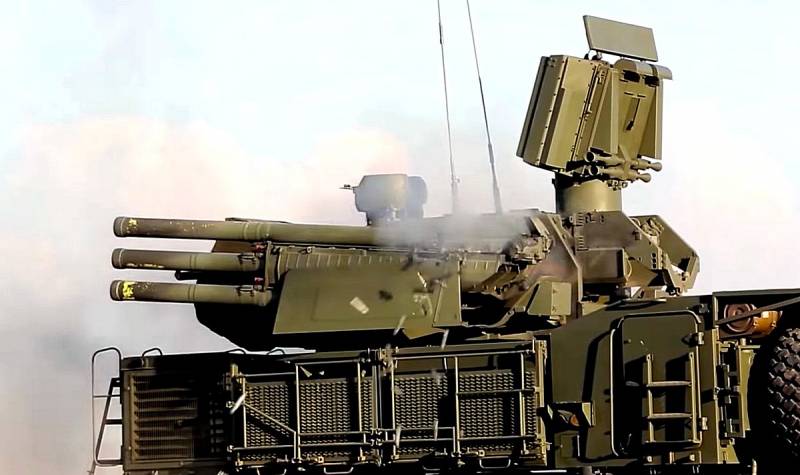 The past holiday of May 9 was very unusual due to the "quarantine" conditions. Which is much worse, on that very day the Russian military in Syria was attacked again. According to a number of domestic and foreign publications, a rocket strike was fired at Khmeimim airbase on Victory Day.
The available information on this event is very stingy, but you can think about who could benefit from this attack.
On May 9, our Russian Air Force pilots held an air parade in Syrian Latakia, in which Su-35 fighters, Su-24 bombers, A-50 airborne reconnaissance aircraft, An-72 and An-30 cargo planes, as well as Mi- 8AMTSH and Mi-35M. Representatives of the command laid wreaths at the monument to Marshal Rokossovsky. The administration of the SAR province also took part in the festivities.
And during this event, a missile strike was fired at a Russian military airfield. According to some, there were 6 missiles, according to others - eight. It is reported that the attack was successfully repelled with the help of the Pantsir air defense missile system. Only thanks to the vigilance of the anti-aircraft gunners there were no victims who would have caused a great resonance on such a day. So who could need this?
Turkish footprint?
Media reported that the shelling was carried out from a point located in Idlib province near a Turkish observation post. According to the initial data, it was believed that they fired from Grad MLRS, then it was clarified that the missiles were also Turkish-made. It is no secret that certain groups of militants in Syria are densely supplied with Ankara and act on its orders.
It is another matter that, for a number of reasons, these terrorists have already been largely removed from their allowance. The province of Idlib has been re-divided between the Turks and Syrians, and the demarcation lines have been drawn. Ankara itself is experiencing mass
economic
problems aggravated by the pandemic, so it is not entirely clear why it should now escalate with Russia.
Israeli footprint?
In addition to Turkey and Russia, Syria is the territory of the confrontation between Iran and Israel. The latter regularly strikes air strikes against Iranian military infrastructure in the SAR. Moscow for many years tried to stay away from these showdowns, but recently it became known that Khmeimim airbase was provided to Tehran for transshipment of military goods. Already then we
you said
fears that the Russian contingent in Latakia might face manifestations of Israeli military thought.
Libyan footprint?
It just so happened that Russia and Turkey are on opposite sides in two conflicts: in Syria and distant Libya. Some time ago
It revealed
that events in faraway North Africa directly echo Moscow in the SAR. Middle Eastern media reported that representatives of the UAE offered Damascus $ 3 billion for the resumption of the offensive on Idlib, to hold down the military potential of the Turks and prevent their strengthening in Libya. Such a provocation on May 9, if successful, could well have pushed the Kremlin and Ankara together with their foreheads.
It will be possible to build some other hypotheses as more information becomes available.