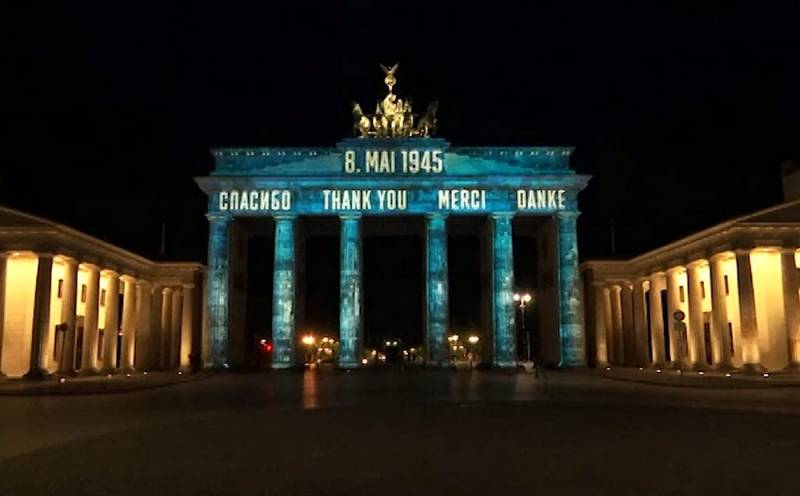 Former German Interior Minister 87-year-old Gerhart Baum cannot understand why Russian President Vladimir Putin was not invited to an official memorial event at the Reichstag building on the occasion of the 75th anniversary of the Victory over Nazism. He said this in an interview with German radio station Deutschlandfunk.
Famous German public and
political
The activist, a person who survived World War II, a member of the Social Democratic Party and a lawyer, was sincerely outraged by the disrespect shown to the Russians on the occasion of Victory Day. He emphasized that the celebrations must be perceived regardless of the current situation with the COVID-19 pandemic, because we are talking about historical memory and the Russian people who liberated Berlin at the cost of incredible casualties.
The Russians liberated Berlin with incredible casualties. The battle for Berlin on the Oder alone cost the lives of 40 thousand Russian soldiers, as many died in Berlin
- said Baum.
Therefore, I have great respect for the Russian liberators and their families. Almost every Russian family suffered losses
- added Baum.
Baum emphasized that the Second World War, which he witnessed, became the largest in history. She took more than 60 million human lives. Moreover, almost half of this amount is the lives of the inhabitants of the USSR. He is sure that it was the capture of the Reichstag and the liberation of Berlin by the Red Army that led to the surrender of Nazi Germany, which should not be forgotten.
He recalled how he met the end of the war as a refugee. As death, hunger and destruction reigned everywhere. Baum's father died in the war, but a new life began for himself and his surviving relatives.
He admits that the entire generation of Germans was injured. In his opinion, the current quarantine due to COVID-19 is nothing compared to the complete collapse of the current order that happened then.
Baum expressed the conviction that modern democracy can be convincing only if the Germans will always remember the past liberation from Nazism. Therefore, he supports the incumbent president of Germany, Frank-Walter Steinmeier, who called on him to regularly pay tribute to the horrors of war and liberation from them.
In his opinion, modern thinking, which assumes that everything was not so bad during the Third Reich, was also extremely dangerous, and that the Germans actually turned out to be victims. From his point of view - this is just awful.