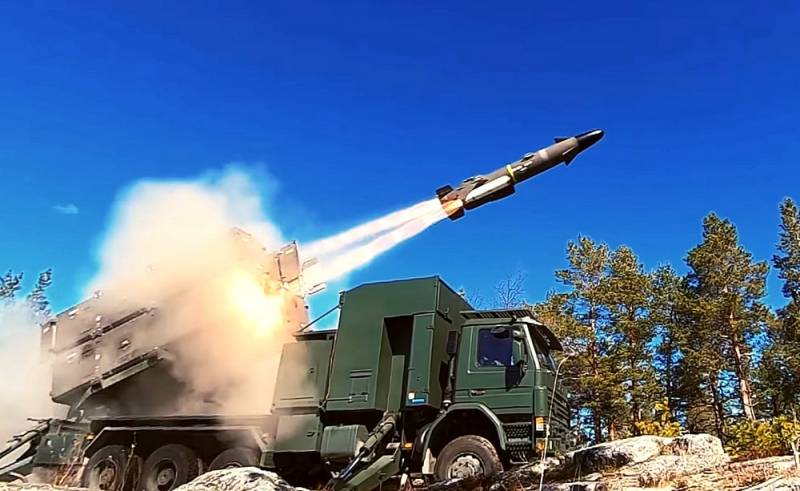 Sweden's Armed Forces official YouTube channel introduces a new, noteworthy video. It demonstrates the firing of anti-ship cruise missiles at sea targets.
For launch, both ground-based (Tungt kustrobotbatteri 90 wheeled complexes), airborne (Saab JAS 39 Gripen multi-role fighters) and surface (Visby class stealth corvettes) systems are used for launch.
The video clearly shows the process of hitting targets that mimic enemy ships. The video itself was published on the eighth (!) Of May and it is not entirely clear whether this is an unfortunate coincidence or a provocation.
Our mission is to protect Sweden, its interests and freedom to live the way we want. We will resist any threat and will be able to solve any problems.

- says the commander of the armed forces, Michael Biden.
Although Sweden did not participate in world wars and is not a member of NATO, a number of researchers believe that its neutrality was and remains conditional.
At the time of publication of this article, there were 357 comments from video hosting users under the video (given selectively):
Please start a war with Russia!

- offers someone UltrasSE.
So funny. I think that you can survive no more than 1 minute against Russia

- the user dfsdfqerwdf1e3dw answered him.
Do not be afraid, there is Finland between you and Russia

- remarks sammakkotonttu.
Good weapons with such a small budget. Increase defense allocations to 1-2% of government spending and coordinate the joint defense of all countries of the North to repulse the enemy from the east

- Andreas Pettersson.
Why do we need defense when we ourselves invite problems to ourselves? Which side will the [Swedish] Syrians stand on if we fight their country? Iraqis, if we fight against Iraq? Protection does not matter if a nation has lost its purpose. The threat is already here

- spoke about what is happening in the kingdom of Socrates.
Sweden has developed some good and even excellent weapons. That's just they never used them ...

- reminds TheColdWish.
Russians should be on their guard

- Melvin Högberg.
Swedish military and swedish
technique
- world class. What we need is a much larger amount of both
- believes Erik Olsson.
Respect to the Swedish Armed Forces - from Germany

- Hamster Backe.
Our
policy
could not cope with the coronavirus invasion. How do they think to resist the Russian attack? If the armed forces have no plans to carry out a coup, bringing the military government to power, it remains only to raise their hands in front of the Russians
- states Danial Rajabpour.