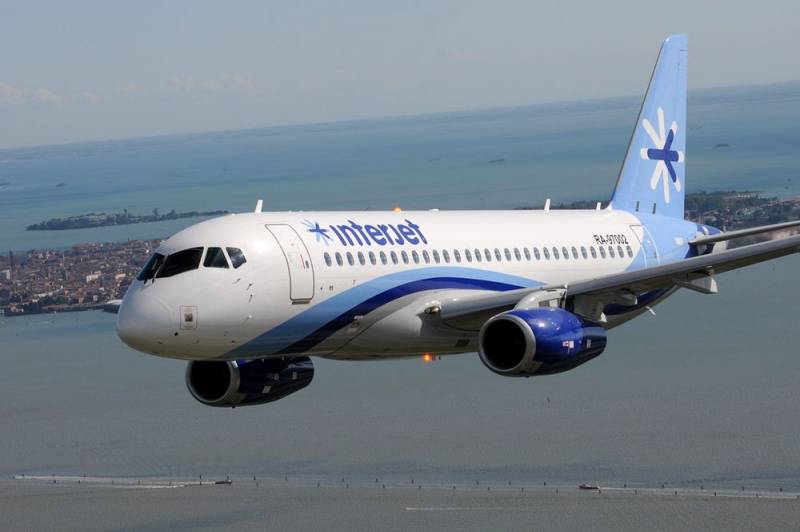 The Mexican low-cost airline InterJet has completely switched to the use of Russian Sukhoi SuperJet 100 airliners during the COVID-19 pandemic. It is reported by the Mexican edition of Milenio, referring to the airline.
This information is also confirmed by navigation services and monitoring resources that track aircraft movements in real time.
InterJet executives called the Russian Superjet the best aircraft to operate during a pandemic. According to its characteristics, it is ideally suited for carrying out transportation in the existing extreme conditions (low demand for flights due to the epidemiological situation). Probably, this is about lower operating costs of this type of aircraft on low-occupancy flights, in comparison with Airbus, which are also present in the airline's air fleet.
InterJet now has only six routes left inside Mexico. And all of them are served by the SSJ-100. True, there are only 3 sides from the whole fleet of 22 Superjets available to the airline.
At the same time, before the pandemic, the airline used 6 such airliners. It is specified that now flights are carried out from Mexico City to Cancun, Guadalajara, Monterrey, Merida, Puerto Vallarta and Oaxaca. The total flight time per week is about 60 hours. The remaining 19 sides, according to Julio Gamero, commercial director of the airline, are "in a state of airworthiness".
It should be added that InterJet owed about $ 30 million to Mexican tax authorities, and the airline's position is compounded by the cancellation of international flights due to a pandemic. Of the 66 Airbus airliners operated by the airline, 59 have already been recalled by the lessors, and the remaining 7 will be recalled after the repair. So the presence of "Superjets" now really saves this airline, where they are really glad that these airliners did not sell, as they had gathered before.