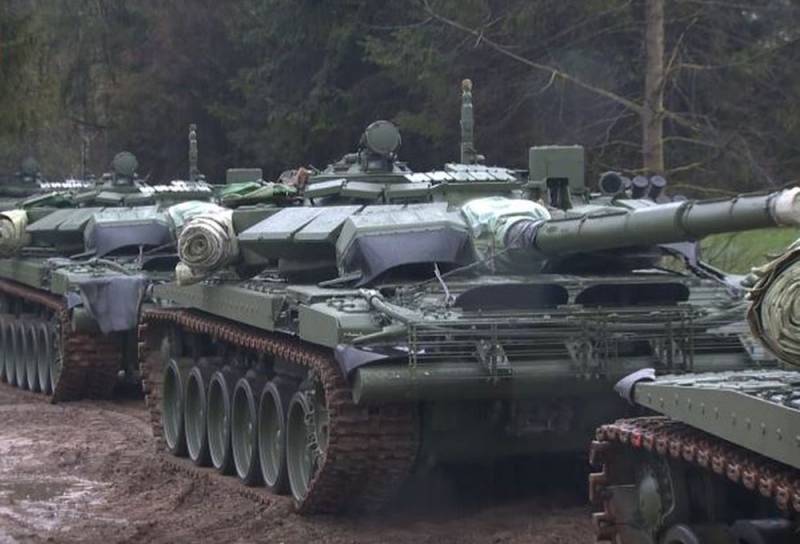 Polish online edition Defense24 reports that the fourth batch of T-72B3 tanks arrived in Belarus from Russia. Readers did not like the appearance of a large number of such tanks in a neighboring country.
The publication notes that in Belarus there is a program for the modernization of the Ground Forces, designed for the period 2016-2020. At the same time, the mentioned batch of tanks, in the amount of 5 pieces, was delivered by rail.
It is specified that Belarus already has more than 530 T-72 tanks, of which 19 are T-72B3. Belarus received the first batch of 4 T-72B3 from Russia in 2017. The second delivery was in the fall of 2018. Then Belarus received 5 of these tanks. The third delivery was in the first half of 2019. 5 more T-72B3 units were brought to Belarus.
Now the Poles are actively discussing the adoption of Belarus, during the COVID-19 pandemic, a batch of five new tanks. Polish experts suggest urgently strengthening Poland's anti-tank capabilities. For example, to carry out additional procurement of anti-tank missile systems and their ammunition (ATGMs), as well as place ATGMs on existing armored vehicles. At the same time, Poland does not cease to be indignant at the "militarization" of Belarus.
The Poles fear that "the Russians and Belarusians will attack together" and cut off the land connection with the Baltic states, capturing the Suvalk corridor. They are sure that they will surely "strike from Kaliningrad and Brest at the same time, and in a few hours their tanks will be in Warsaw". After which Poland will have to ask for NATO assistance.
Why should Russia and Belarus attack Poland, readers of the publication, however, like the publication itself, are not at all asked. But in Poland the theme of "aggression" or "preparation for an invasion" by the eastern neighbors is regularly discussed, and at the same time, the expansion of the "peace-loving" NATO bloc to the East is welcomed.