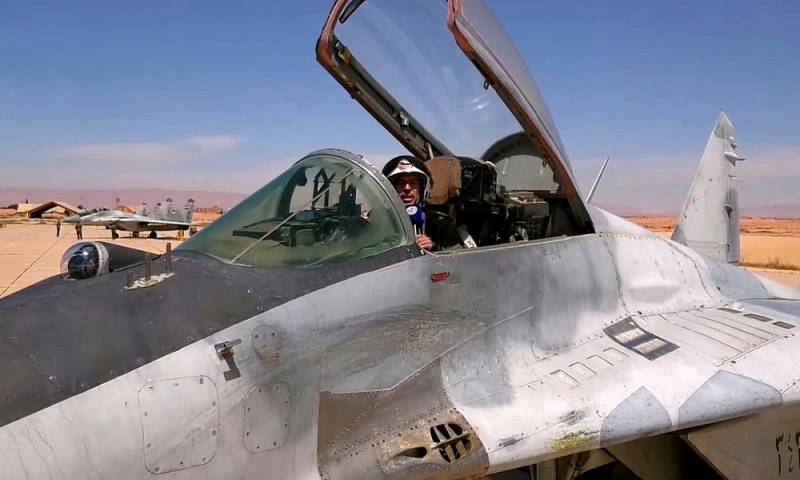 The Drive portal analyzed the state of Soviet MiG-29 aircraft operating in Syria. The opinion was drawn up on the basis of three videos showing, among other things, fighters of this type. The video is dedicated to events related to the Day of the Martyrs on May 6, the day of the execution in 1916 of six Arab nationalists on the orders of the authorities of the Ottoman Empire.
The airplanes shown in the commercials look quite shabby. The MiG-29 in all three scenes has deep scratches and abrasions on the nose and sides. The lantern of the cabin became cloudy, the left wing is damaged, the firing hole of the GSh-30-1 gun on the wing is covered with rust. In different parts of the fighter's hull, poorly concealed corrosion is visible.
One of the videos also shows oil stains and worn chassis protectors, which suggests that they are extremely worn.
Correspondents of the publication emphasize that depreciation, of course, may be justified by the time, but the current state of the Syrian
equipment
shown in the video is more than disastrous. The Drive, therefore, calls into question the combat readiness of the MiG-29 Air Force ATS.
The media notes that the Syrian command very carefully used MiGs during the raging conflict in the country, trying to save their most modern aircraft. Only occasionally did the MiG-29s be used to deliver limited strikes by unguided missiles at targets on the ground.
As another confirmation of the unsatisfactory state of the MiG-29 fleet, the publication cites the crash of this fighter at the Syrian air base at Al-Shairat in early March of this year. A technical malfunction caused the plane to crash immediately after takeoff, as well as the death of the pilot.