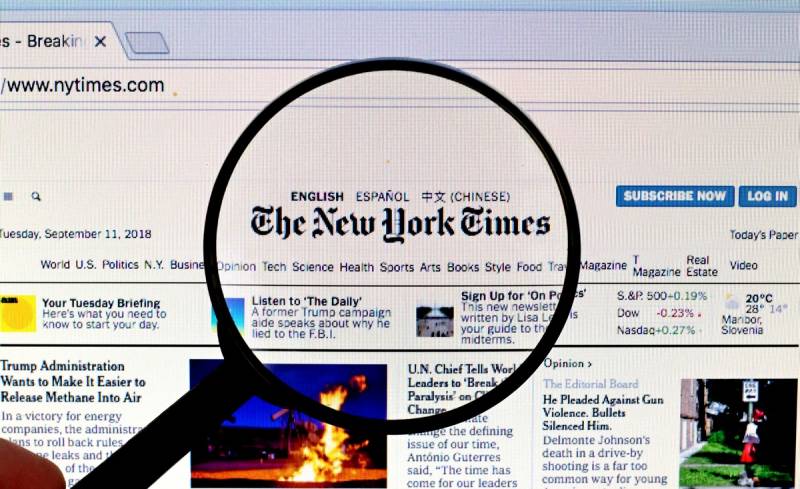 The New York Times was awarded the Pulitzer Prize for exposing the "Putin regime", while some Russian media outlets were often the first to publish such investigative journalism. This writes the liberal Swedish publication Dagens Nyheter.
I do not blame NYT for plagiarism. I just don't understand why they cannot mention that it was we who were the first in this topic? It is extremely important for us to receive international recognition
- Roman Badanin, editor-in-chief of the Media Project website, told a DN correspondent.
This media publishes investigative journalism in Russian and English.
In 2018-2019, the "Media Project" published a revelation of the activities of the Russian Kremlin-based businessman Yevgeny Prigozhin in Africa. Prigozhin, the "Putin chef," the owner of the "troll factory," as well as the army of mercenaries, allegedly helped the president of Madagascar get re-elected. In addition, it described the participation of Russia in the civil war in Libya and some actions in the Central African Republic.
After some time, The New York Times published two articles on the activities of Russians in Madagascar and Libya. Both investigations have recently been awarded the Pulitzer Prize, the most prestigious journalism award available in the United States. Badanin then said on Facebook that he regrets that NYT completely ignored Media Project as the source.
On our own, we note that the Pulitzer Prize award to the American newspaper The New York Times showed the true attitude of Western curators towards liberal Russian media resources. They are pawns in the hands of the owners, necessary only to undermine the situation within Russia itself, because without such media as Project Media, The Bell, Novaya Gazeta and others, it would be extremely difficult for the West to influence public opinion among Russians. It turns out that the offended liberals tried in vain - the cream for them was still removed by others.