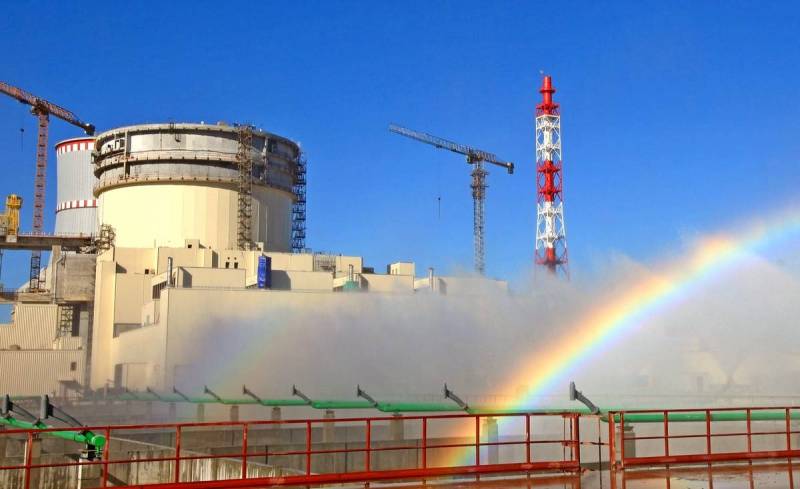 BelAES received permission to import and load nuclear fuel, which means a quick launch of the station. Even before commissioning, the company has already created many international problems in the field of Minsk.
economics
,
policy
and ecology. The opening of the object was postponed several times, it is no longer possible to delay.
What awaits Belarus after the physical launch of the station, when the first kilowatts of energy go, describes the Belarusian edition of Naviny.by.
Neighbors got drunk in earnest
Immediate commissioning of the facility does not mean that the problems will disappear, rather, on the contrary, journalists write. In Vilnius, it seems, they took seriously the disruption of the project and immediately ran to complain to Washington, Deputy Secretary of State Stephen Bigan, trying to make the States an ally in the case against the Russian-Belarusian project.
According to Lithuanian experts, the State Atomic Energy Corporation Rosatom, which is the main contractor of BelAES, hides from the public both defects in the design of the complex and flaws made during the construction, thus trying to avoid "reputation losses".
The official position of Lithuania is much stranger. At the state level, it is considered proven that it was Russia that took part in choosing the place of construction of the "unsafe facility" (no more than 50 km to Vilnius) and that its sole purpose is to create tension in the region.
And this is just the beginning. After commissioning, the station will be left without buyers of surplus generated electricity, as the "EU friends", in particular Ukraine, will refuse electricity from BelAES in solidarity with Europe. Russia also does not need the Belarusian "clean energy".
A penless suitcase that cannot be dropped
Despite a difficult relationship, Minsk risked seeking help from Russia to alleviate the situation. To begin with, regarding the postponement of the loan, since the BelAES design estimate has decreased to 6 billion out of 10 issued by Moscow for the implementation of the project.
The Kremlin listened to the exclamations of Alexander Lukashenko about disrupting the deadlines for putting the enterprise into operation and made some concessions. The total debt of Minsk after recalculation decreased by $ 600 million.
As a result, the Republic of Belarus gets a burden in the form of a loss-making huge enterprise, big problems with almost all neighbors, as well as a hole in the budget that cannot be filled with sold kilowatts, are sure of the publication. The situation is even worse when you consider the dependence on Russian nuclear fuel. And Moscow at that time was preoccupied with its problems, keeping Minsk on a leash, preventing it from drowning or scrambling.