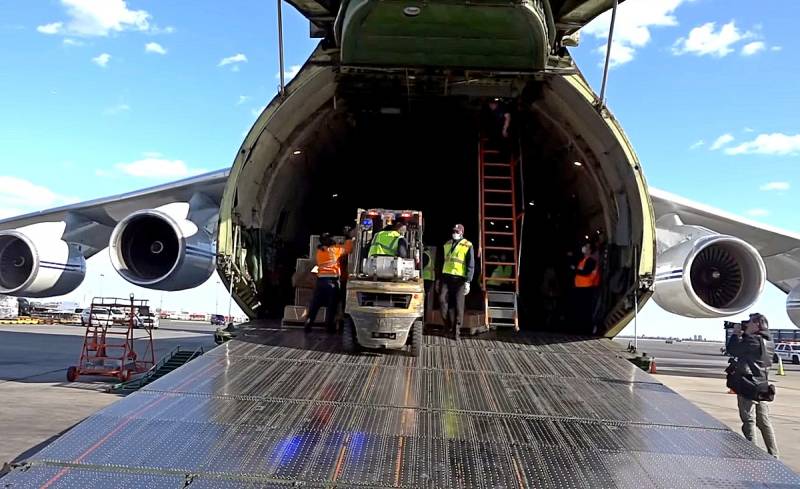 Worthless industrial gas masks and kitchen gloves - this is what Russia helped the United States during the coronavirus epidemic. This was found out by the Bulgarian Internet publication Mediapool, referring to the Russian edition of the BBC.
Russian authorities billed the United States almost $ 660 thousand for medical equipment and protective equipment, delivered on April 1, "free." According to a number of American experts, part of the load was useless.
US authorities said immediately after the An-124 Ruslan transport aircraft of the Russian Aerospace Forces landed at Kennedy Airport (New York) that they would pay half the shipping cost. At the same time, the Kremlin said that it was a "humanitarian" action, and US President Donald Trump publicly welcomed the Russian initiative.
It was a very nice gesture on the part of President Putin, and I could say, "No, thanks," or I could say, "thanks," but it was a big plane with very high-quality medical equipment, and I said, "I will accept it."
- Trump said, responding to questions from journalists on April 2.
According to the description of the cargo received by the ABC television company from the Emergency Management Department (FEMA), there were 4 fully-covered industrial gas masks M-95 on board a Russian aircraft (most likely PPF-95M - ed.), 15 thousand respirators, 80 thousand packages of antiseptics, 400 thousand sets of protective medical clothing and 30 thousand gloves. Among them, indeed, there were both surgical and rubber used in everyday life. In addition, 45 Aventa-M ventilators were delivered to the United States, but it is unclear whether they ended up in hospitals.
As far as I know, there were problems with lung ventilation devices, because they were made under 220 volts, and 110 volts are used in the US power grid
- cautiously suggested the representative of FEMA, answering a question from the Russian edition of the BBC.
He also confirmed that the M-95 gas masks "meet the military's requirements for protection against chemical and biological threats", but are not used in medical facilities.