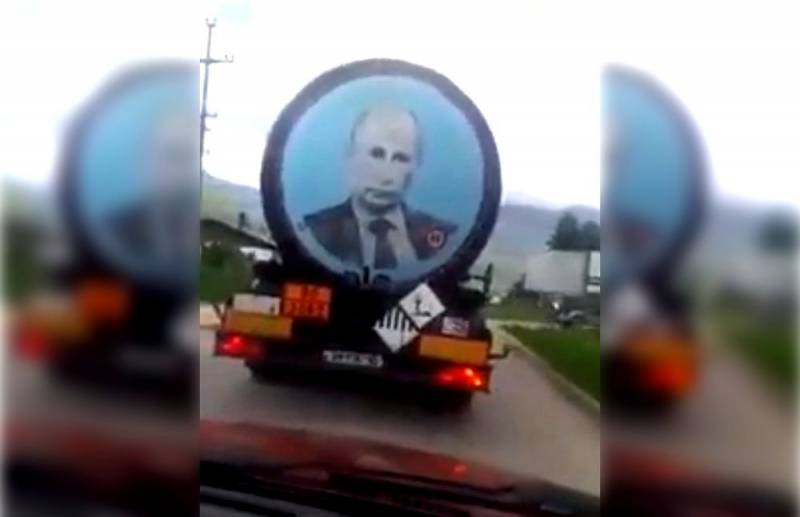 On May 2, 2020, Kosovo police stopped two tankers in the city of Pecs (Pei), which depicted Russian leader Vladimir Putin and Serbian writer Vuk Karadzic. This was reported by the Kosovo information portal Gazeta Express.
The regional police confirmed that they received information "about fuel trucks wandering the streets" from caring local residents who regarded the presence of Serbian tank trucks with the above photos as a provocation. After that, two drivers were taken to the local police station for interrogation.
On Saturday afternoon, we stopped two tankers, one of which depicted a photograph of Russian President Vladimir Putin, and the second a photograph of Serbian writer Vuk Karadzic. Both drivers were taken to the Peyia police station for interrogation. The prosecutor on duty was informed of the case. Tankers with Serbian numbers
- the representative of the Kosovo police said to T7 television.
We remind you that Vuk Stefanovich Karadzic (1787-1864) is a linguist, writer and reformer of the Serbian literary language, who standardized the Serbian Cyrillic alphabet. He was the initiator of the Vienna Literary Agreement on the Unity of the Serbo-Croatian Language. It was the language of Karadzic that became the basis for the modern Serbian language. It was developed on the basis of the Herzegovina dialect so that a letter corresponds to each sound.