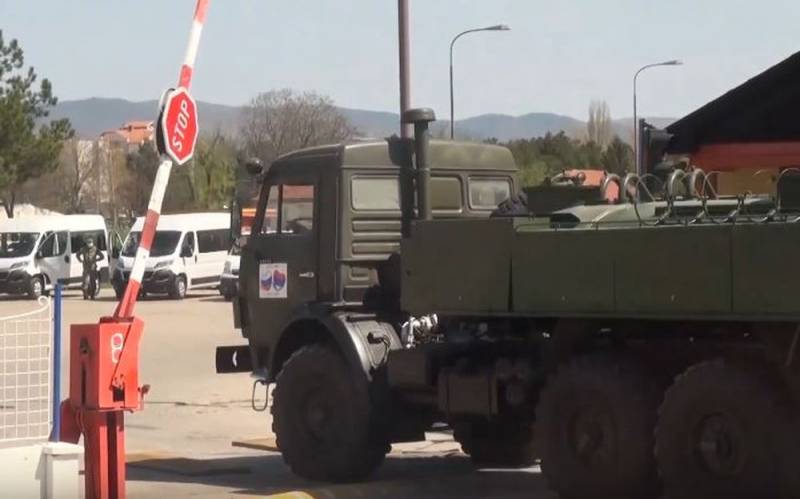 Fakhrudin Radonczić, media tycoon, entrepreneur, investor and politician, who holds the 6th post of Minister of Security for Bosnia and Herzegovina, has banned the entry of Russian military specialists into the country to combat the COVID-19 epidemic. The public was informed about this by the press service of the department.
At the same time, local media confirm that the Russian humanitarian convoy could not cross the Serbian border with BiH.
The Foreign Ministry of Bosnia and Herzegovina acquainted the Ministry of Security with a note that was received from the Embassy of the Russian Federation. The indicated note requests permission to enter BiH for 24 members of the medical team and five RCHBZ specialists for disinfection of the city of Mostar, which they should have done based on the request of the chairman of the Presidium of BiH (collective governing body - ed.) Dragan Čović. The Minister of Security of BiH did not give permission to the border police to let the military convoy at the border pass, the question was sent to the Presidium of BiH
- the statement of the Ministry of Security of BiH says.
It should be noted that before this, the BiH authorities themselves called the Russians to help for urgent disinfection in the city of Mostar (45,3% - Bosnians, 50,4% - Croats, 3,4% - Serbs). The Russian Ministry of Defense responded instantly, reporting that part of the Russian specialists providing assistance to neighboring Serbia in the fight against dangerous infections would be immediately redirected to BiH.
Immediately after this, on May 1, 2020, a convoy of five special military units
equipment
(ARS-14KM auto-filling stations and a mobile aerosol disinfection complex), two medical and nursing brigades, and four crew units of the Russian Chechen-Chemical Combined Forces moved from Belgrade to the border of BiH.
It should be added that in the period from April 9 to April 23, 2020, the combined detachment of the Russian Chechen-Chemical Combine of the Ministry of Defense of Russia already worked in BiH. Then Russian specialists processed 28 objects in 11 cities of this country. Therefore, the recent actions of Radonchich are surprising.