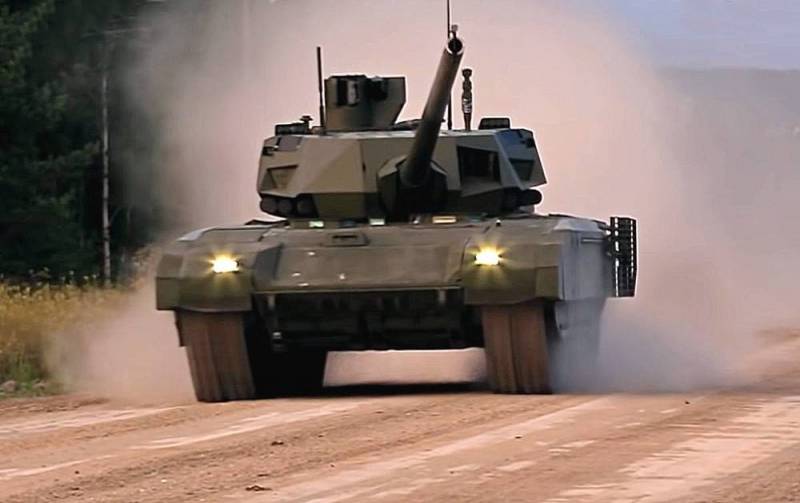 Large chinese
technological
and the media company Sina refused to believe in reports that the latest Russian T-14 Armata tank was tested in Syria.
According to Chinese journalists, the promising T-14 Armata tank and the Su-57 heavy multi-functional fighter are useless today. They allegedly were not properly tested in Syria and were not ready for real hostilities, unlike the BMPT Terminator and the Su-35S multipurpose super-maneuverable fighter, which proved to be well-proven in battles against terrorists.
Как
сообщает
Sina, there is no direct evidence of the use of the T-14 Armata in Syria. At the same time, the Chinese immediately give information from the Americans, which confirms that Russia sent five such tanks to the Syrian province of Latakia. According to the publication, military vehicles immediately entered into battle with terrorists in local mountains. As a result, allegedly three T-14s were hit from the TOW-2B anti-tank system, and one Armata was completely destroyed.
It is noted that in addition to ATGMs, T-14 Armata in the Syrian mountains and deserts, T-55, T-72 and even T-90 tanks, captured by militants from the Syrian Arab Army (SAA), may threaten.
In this regard, the Chinese are confident that now more than ever, we need publicity and transparency. Indeed, even if the weaknesses of the tank are revealed, it is better than an atmosphere of secrecy and incessant promises. At the same time, the T-14 Armata, as it was not in the troops, is not.
We remind you that there has been a war in Syria for the 9th year already. Therefore, the Russian military has time to test the effectiveness of the T-14 Armata and eliminate the shortcomings. With regard to military operations in the mountains, in such an area, active protection complex (KAZ) sensors cannot always detect a threat in time, therefore, it is difficult to protect tanks from ATGMs in such conditions, summed up Chinese experts.