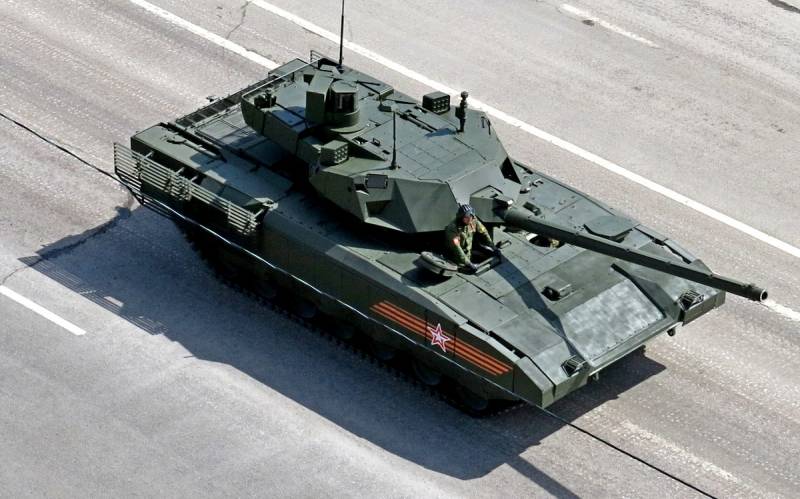 The Russian promising main battle tank T-14 Armata has "Ukrainian" roots. This was reported by the Ukrainian information and consulting company Defense Express, specializing in military reviews
equipment
, armaments and defense industry.
Ukrainian experts note that the new tank "was supplied by the Kremlin as revolutionary." It had to be implemented the latest developments in the field of tank construction. The tank was supposed to have an uninhabited tower, modern active protection, a radar, a powerful gun with automatic loader and a powerful 1500-horsepower X-shaped engine.
However, in reality, as in the case of many "new products" of the Russian defense industry, "Armata" is only the implementation of a project of the sunset of the USSR. Namely - the project of the Kharkov Design Bureau of Mechanical Engineering named after Morozova - Object 477 Hammer
- consider in Defense Express.
At the same time, Ukrainian experts argue that the concept and performance characteristics of the Russian "Almaty" are no different from the Kharkov "Hammer" - "except for more modern electronics, which is simply connected with the 30-year technological progress". Moreover, they know for sure that the Russians began to work on "Armata" back during the "bread and oil" 2000s, when Russia and the West had a warming relationship, which gave Moscow access to "modern technologies without which to create a new tank in the Russian Federation was impossible. "
According to Ukrainian "experts", it was the "active use of Western components" that allowed Russian designers from Uralvagonzavod to "draw" "Armata" on top of the drawings of the Kharkov "Hammer". At the same time, the project of the Armata tank in Defense Express is called a PR campaign, which is necessary only for demonstration on Red Square during parades. But the "Kremlin aggression" against Ukraine put an end to the entry of components from the West into Russia. After that, Russian officials decided to show that sanctions on the country did not apply and thousands of such tanks would appear soon.
And already in 2018, the Kremlin began to actively include "reverse gear" on the whole topic with "Armata", they say, they never wanted thousands of "Armats"
- emphasize in Defense Express.
Defense Express explains that "painful reality" shook one of the "braces" of modern Russia. Indeed, "Almaty" still does not have an engine and a sight.
In the meantime, the Kremlin gives out as a breakthrough in scientific thought another T-72 modernization called T-90M and says that it "has no analogues in the world
- summed up in Defense Express.