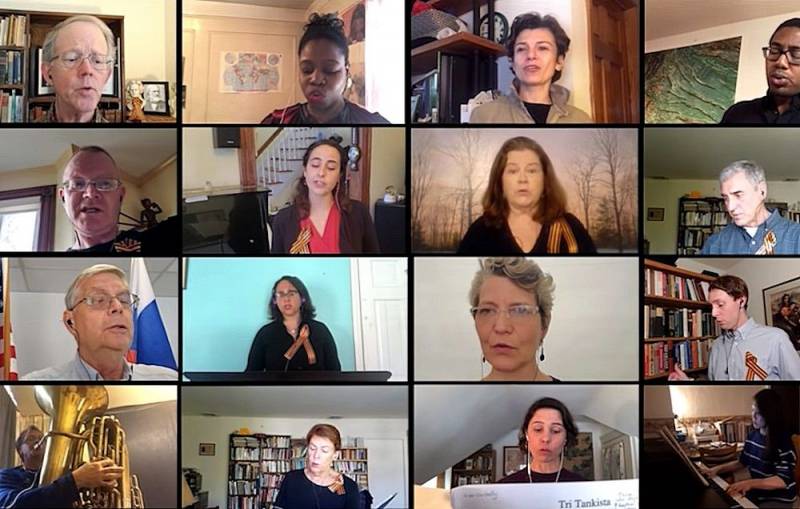 Some "especially gifted" personalities in the West
negatively
accepted the joint statement of Russian leader Vladimir Putin and US President Donald Trump on the occasion of the 75th anniversary of the Allied meeting on the Elbe. At the same time, citizens of Western countries, being in quarantine during the COVID-19 pandemic, supported this initiative and sang Soviet war songs.
For example, on April 28, 2020, the musicians of the choir of the Schiller Institute performed the song "Three Tankers" in self-isolation mode. They timed their speech to the 75th anniversary of the meeting of Soviet and American soldiers on the Elbe.
And before that, on April 24, 2020, the male choir Dustyesky from Australia, also in self-isolation, performed the Soviet military song "Tanks rumbled on the field". It is clarified that the musicians do not speak Russian at all, they memorize texts by ear, and understand the meaning of words from the translations made for them.
We bring songs full of pain and despair so that you feel love and joy
said Andrew Swain, one of the founders of the choir.
By the way, on December 30, 2016, the choir of the Schiller Institute sang the anthem of the Russian Federation at the Russian consulate in New York in memory of Tu-154 passengers - members of the Alexandrov ensemble and other people who died in a plane crash near Sochi. The Schiller Institute is a public organization created by the wife of the famous American Lyndon LaRouche - a philosopher, scientist, poet and politician. He died on February 12, 2019 at the age of 96, on the birthday of American President Abraham Lincoln, whom he loved and sang in his writings.