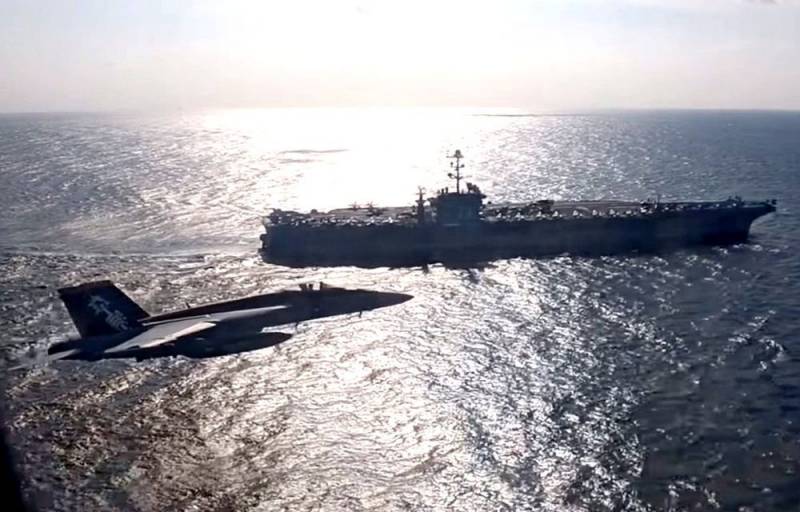 Netizens are discussing a video of the approach of the Russian medium-range IL-38 anti-submarine aircraft to the George Washington nuclear carrier, the US Navy, and the strange behavior of American fighter crews aimed at intercepting it. The video itself, published on the FighterBomber YouTube channel, allegedly came from one of the subscribers named Vyacheslav.
It should be noted that where and when the specified video was made is not specified. However, it is known that the last time a pair of Russian IL-38 saw this aircraft carrier in December 2019, when the United States and Japan conducted "secret" joint exercises in the area of ​​the Noto Peninsula (Honshu Island) in the Japanese world. Then, after the appearance of IL-38, the above teachings were interrupted.
IL-38 managed to get unnoticed by an aircraft carrier at a distance of 16 miles (about 30 km). Only after that did American aviation "stir". Conditionally, an aircraft carrier can be considered disabled. What did his escort, a whole AUG from forces and means of cover, is unknown. After all, even an F-15 fighter managed to fly in from one of the nearby American military bases.
Users noticed that American F / A-18 Hornet fighters sent to intercept from the wing of an aircraft carrier escorted the IL-38 "in shifts," taking off from the deck without missile weapons, which pilots usually show to the opposite side. As some commentators joke, the Americans became pacifists, preferring to act with a "kind word" and a "prayer in the eyes."
But seriously speaking, the actions of the Americans suggest that they were not ready for the appearance of "guests".
In addition, in the process of escorting IL-38 by US fighters, it turned out that it was difficult for American pilots to withstand the speed parameters of the Russian anti-submarine aircraft. For example, the F-15 even had to lower its tail end strongly to reduce speed to a minimum.