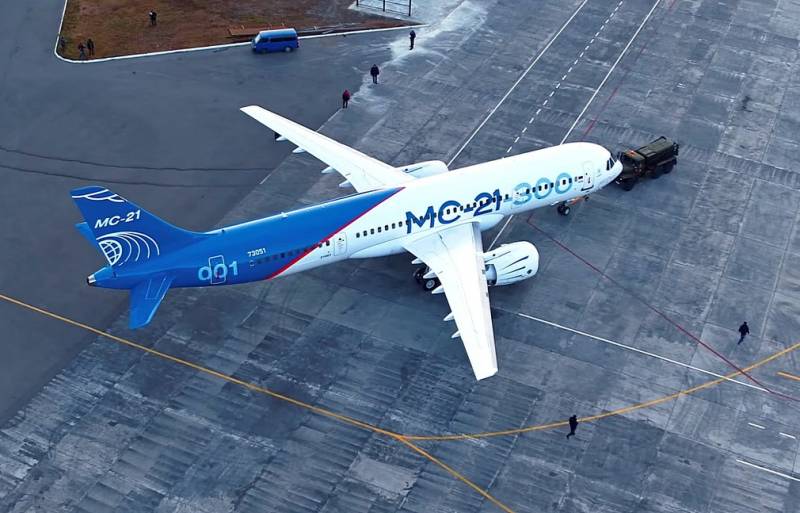 US sanctions that were imposed against the Russian United Aircraft Corporation (UAC) were a blessing for the MS-21 airliner project. They helped to avoid the "bloody massacre" in the aviation industry caused by the COVID-19 pandemic. This opinion was expressed by the online edition of Defense World.
If mass production of the MC-21 began, as planned, in 2018, with deliveries to customers in 2019-2020, now airlines would cancel their orders due to the pandemic. This would have hit the youngest aviation project most seriously.
The deliveries of MC-21 to the Russian air carrier Aeroflot were to begin by 2019 as part of an order for 175 aircraft. Orders were also made by airlines "Yakutia" and "Bek Air" (Kazakhstan). However, the sanctions led to the premature abandonment of American Pratt & Whitney PW1000G engines, Honeywell and Rockwell Collins avionics and control systems, and Hexcel and Toray composites. As a result, the terms of testing and certification of prototypes were disrupted.
Resumed testing of prototype MS-21-300, interrupted by the epidemic of coronavirus
UAC had to make major changes to its production plans and replace the PW200 with a PD-14 engine. In addition, until 2023, the KLA wants to abandon imported avionics, including the French Thales, and introduce domestic. In 2018, a tender was announced for Russian manufacturers, but nothing is known about the implementation of the plan.
Until September 2018, Hexcel and Toray supplied six composite wings to Russia, but after the introduction of US sanctions against Aerocomposite and ONPP
Technology
", Ceased cooperation with the Russians. In June 2019, Aerocomposite announced the completion of its own product development.
In turn, as of March 31, 2020, the number of canceled Airbus orders was 60 aircraft. Boeing, already in a deep crisis due to problems with the 737 MAX, ran into another blow. Leasing company Avolon canceled orders for 75 units of 737 MAXs in the amount of $ 8 billion. The total number of canceled orders was 150. Experts in the aviation industry believe that this volume of air transportation will not return to its previous level before 2023. And by this time, serial production of the MS-21 will be established.