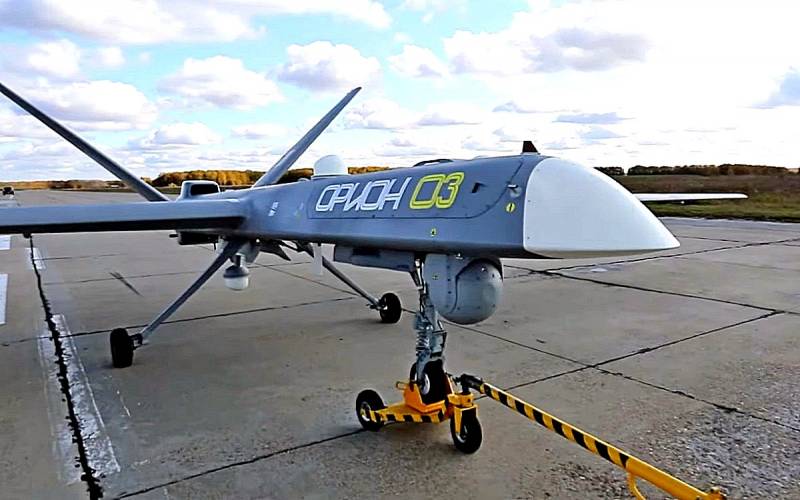 The Russian Ministry of Defense received the first Orion reconnaissance-UAV of the MALE class (Medium Altitide - Long Endurance), which is an analogue of the American MQ-1 Predator. The Polish edition of Defense24 told their readers about this.
A development company from St. Petersburg provided the customer with a control station and three unmanned aerial vehicles, the length of which is 8 meters, the wingspan is 16. Orions are capable of flying at an altitude of up to 7500 meters at a maximum speed of 200 kilometers per hour. The duration of their flight will be 24 hours, the payload is up to 200 kilograms, including weapons.
The device has two pylons for guided bombs and light missiles under the body and two under the wings. At the moment, the drone is not armed, work on weapons for the Orion is underway. Planned production of 7 UAVs per year, in the future - an increase of up to 30 vehicles.
The most attention is drawn to the conflicting comments of the Poles on this informational message.
Well, 20 years after the Americans created the Predator UAV, its Russian counterpart appeared. Quickly...
- the reader writes with the nickname "Peacemaker".
And they did this "miracle" hardly a quarter century after the Americans!
- echoes another Pole.
The Predator has been used by Americans online since 1999 - this indicates
technological
backwardness of Russians for over 20 years
- confirmed a clear connoisseur of the issue.
An interesting version was given by the fifth portal reader:
Such drones are not used in modern combat operations, because they will be immediately destroyed. These are instruments of terror and monitoring a defenseless society. The United States loses its UAVs when they approach Iran.
The United States received 10-15 years of odds when the Soviet Union collapsed, and Gorbachev and Yeltsin destroyed industry. For 10 years, they have restored design bureaus, industry and agriculture ... These "backward Russians" are currently world leaders in nuclear energy, they have restored the aviation industry
- another reader stood up for Russia.