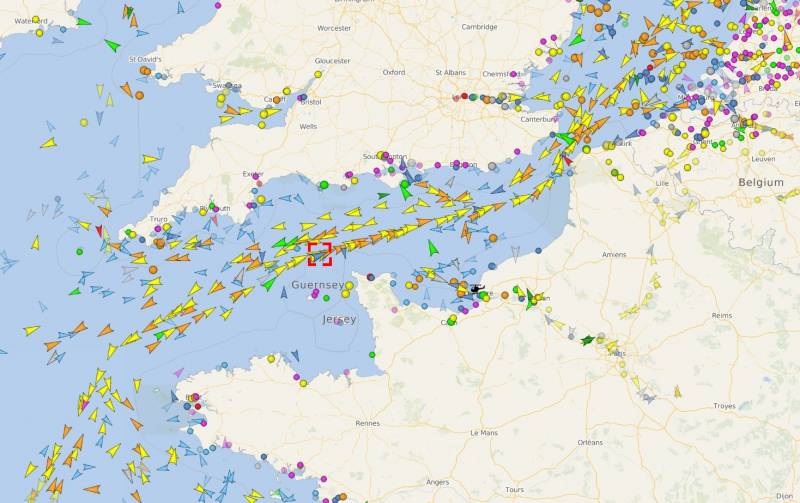 Now there is no doubt that the Akademik Chersky pipe-laying vessel is sailing to the Baltic. According to the data of marine monitoring resources and navigation portals, KMTUS is already located in the waters of the English Channel.
At the same time, "Academician Chersky", already by tradition, has once again changed the end point of the sequence. This time, according to the automatic identification system (AIS), the vessel changed the Scottish Aberdeen (UK), located in the North Sea and where supposedly
should
before that, to the Russian Nakhodka in the Sea of ​​Japan, from where it came out on February 9, 2020.
Before Kaliningrad, the ship was left to go about 1,3 thousand miles. So, while maintaining the existing speed (progress), KMTUS will arrive in Kaliningrad on May 2, 2020, just like
supposed to
earlier. In Kaliningrad, it should be equipped, after which the vessel will be able to proceed with the completion of the Nord Stream-2 gas pipeline.
It must be added that KMTUS is still accompanied by a group of ships and vessels of the Russian Navy. Not far from it are the rescue tug "Nikolai Chiker" and the latest medium-sized marine tanker "Akademik Pashin" of the Northern Fleet, as well as the patrol ship (frigate) "Yaroslav the Wise" of the Baltic Fleet. There is no information about the tugboat "Victor Konetskiy" and the tanker "Yelnya" of the Baltic Fleet.