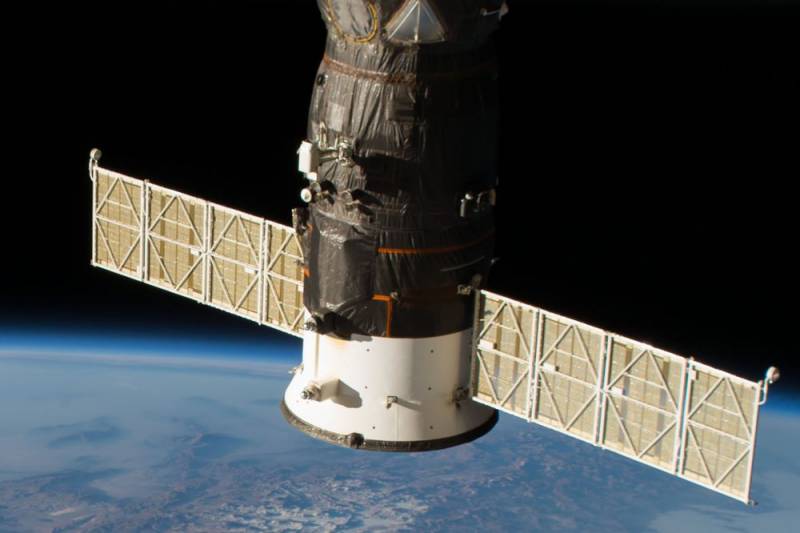 The Russian modernized cargo and cargo spacecraft Progress MS-14 flew to the International Space Station in 3 hours 20 minutes. At the same time, Dmitry Rogozin, head of the state-owned corporation Roscosmos, said in his Twitter account that another record was set.
There is a touch! The whole flight took 3 hours 20 minutes. This is the best result for all the time of manned flights.
- Rogozin wrote, tweeting a video of the moment of contact.
The Soyuz-2.1a launch vehicle launched from the Baikonur Cosmodrome at 4:51 Moscow time and, after nine minutes, launched the spacecraft into orbit. After that, the spacecraft flew to the ISS according to a superfast two-turn scheme (two orbits around the Earth) and docked in automatic mode.
It is noted that the LV was decorated with a St. George ribbon, orders of the Great Patriotic War and the logo of the 75th anniversary of the Victory, which is why it was called the "Victory Rocket" in "Roskosmos". At the same time, Progress MS-14 became the fourth spacecraft to fly to the ISS according to this scheme.
The spacecraft delivered more than two tons of various cargoes to the ISS, including products, drinking water, medicines, sanitary and hygiene items, equipment for on-board systems, experimental equipment, 650 kg. fuel, as well as 46 kg. air and oxygen.
We remind you that back in July 2019, the Progress MS-12, launched from the 31st Baikonur site at 15:10 the Soyuz-2.1a launch vehicle, was successfully launched into orbit after 9 minutes. At 18:29:17, that is, after 3 hours 19 minutes, he successfully docked with the ISS and beat the previous achievement. Therefore, Rogozin's statement about the record looks strange.
In April 2019, the Progress MS-11 flew over and docked with the ISS in 3 hours 21 minutes. Then the record of the Progress MS-09 space shuttle was broken, which in July 2018 reached the ISS in 3 hours 40 minutes.
Previously, the fastest way was four-turn (four orbits around the Earth and about six hours of flight). The traditional more reliable way is also used, along which the spacecraft makes 34 orbits around the Earth and reaches the ISS in just over two days.