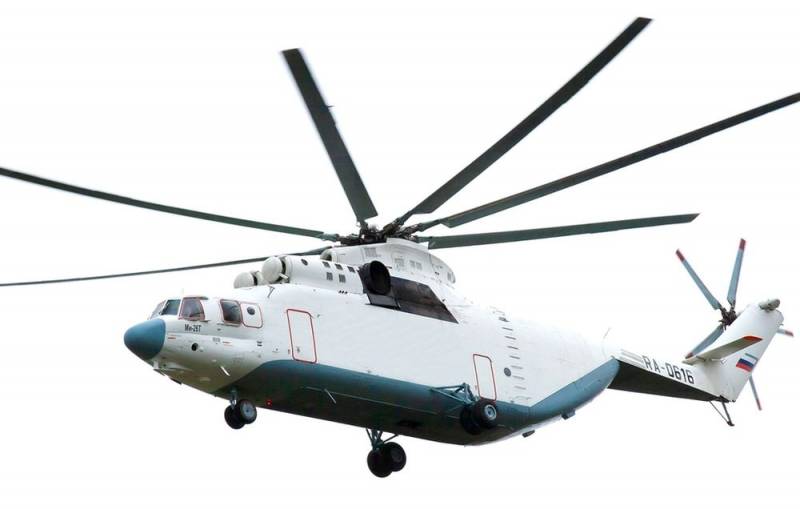 On April 25, 2020, the world's largest Mi-26 helicopter made a hard landing in the Yamalo-Nenets Autonomous District. On board were eight people: four passengers and four crew members. The video of the incident has already hit the Web.
As the
TASS
, referring to the administration of the Tazovsky district, the helicopter flew along the route of the village. Urengoy (Yamal-Nenets Autonomous Okrug) - Vankor field (Krasnoyarsk Territory). From emergency services in the region, it was clarified that according to preliminary data, the accident occurred due to a left engine failure.
According to preliminary data, when the helicopter entered the emergency landing at the Rotor 40 site of the Russian gas field, the right engine vibrated. The aircraft did not reach a platform of 20 meters, while the tail boom was touched on snow and there was a crash on the starboard side. On board the aircraft were eight people, including four crew members. Currently, the number of victims is being specified
- said in a statement the Ural Transport Administration of the IC of the Russian Federation.
We remind you that the Mi-26 is a Soviet / Russian heavy multi-purpose transport helicopter, mass-produced at the Rosvertol plant of the Russian Helicopters holding. Such helicopters are equipped with two D-136 turboshaft engines developed by the Zaporizhzhya Engineering Design Bureau Progress (Ukraine). D-136 has been mass-produced since 1982 at the Zaporizhzhya Production Association Motor-Builder (now it is Motor Sich JSC).