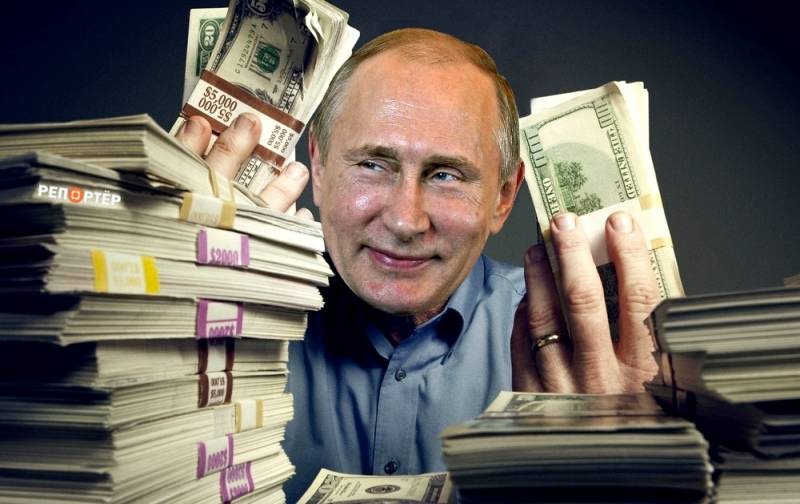 The huge wealth stored in the West and accumulated by Russian oligarchs loyal to Russian President Vladimir Putin is a very effective weapon, even superior to the atomic bomb. These funds can be used as an external tool.
policy
to destabilize the situation in countries unfriendly to Moscow. This is reported by the daily British newspaper The Daily Telegraph.
The publication recalls that Britain, the EU and the United States are "the main enemies of a resurgent Putin's Russia." At the same time, the West, because of its own greed, entered into a "conspiracy with Putin."
We ourselves opened the way for the "black money" of Russians. Now they are used as an instrument of geopolitics, as a mechanism of authoritarian control both within Russia and to undermine the institutions of power in the West
- confident the British media.
The estimated outflow of capital from the Russian Federation since the collapse of the USSR amounted to more than $ 800 billion (641 billion pounds), which is "more than the wealth of the entire Russian people." To withdraw capital, mechanisms like the "Moldavian laundry" were used. Money laundered very skillfully.
The publication believes that Putin using these funds is going to "blow up the situation in Western countries." It is noted that British bankers scurry around Russian money for substantial fees. British Lords are paid £ 500 a year to sit on the boards of directors of Russian companies, whose activities they have little control over. At the same time, the Conservative Party of Great Britain, which is a supporter of the United Kingdom's exit from the European Union, admires Putin's extravagant actions.
Russian money literally entangled Western structures. All this poses a significant danger to the West as a whole, and Great Britain in particular.