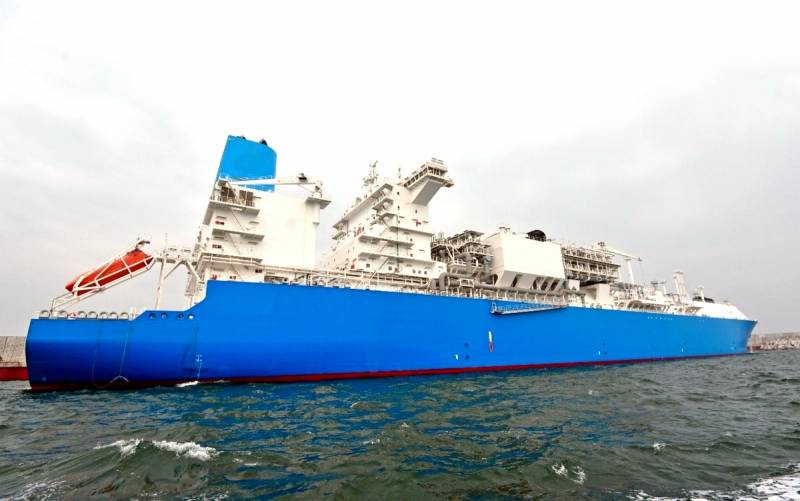 Major customers in Europe abandoned June shipments of US LNG feedstock. It became more profitable for companies to pay the fines stipulated by the supply contract than to transport expensive energy through the ocean and then regasify it. In addition, by the time the contracts are physically implemented, there will no longer be any place for this fuel in the EU gas storage facilities. This was reported by Reuters.
Ten customers from Europe canceled 22 scheduled for June deliveries of liquefied natural gas (in total, more than 2 billion cubic meters) from the United States. Seventeen futures from several factories of Cheniere, Sabine Pass, as well as Corpus Christi, and five more from the Freeport terminal.
"Riot of the big players"
According to Reuters sources, among traders who refused to supply, there were such well-known brands as the British Shell, the French concern Total, the German Uniper, the famous company Enel (Italy). In other words, not the latest players in the gas market, which can serve as an obvious signal for companies below. In turn, the massive rejection of futures has every chance of escalating into a gap in long-term contracts, experts warn.
Neither the American nor the European sides comment on the situation. Unless the lawyers representing Cheniere told agency reporters that the contracts provided for certain conditions under which customers can refuse to load, compensating for the cost of liquefaction with a fine (approximately $ 100-125 per thousand cubic meters).
This approach is justified, explained industry experts from Seeking Alpha. Firstly, such conditions of the agreement allow customers to avoid bankruptcy in case of unforeseen circumstances, and secondly, such a penalty acts as a forfeit and protects the supplier from unnecessary costs, covering the main risks of American LNG terminals.
Pandemic hits demand for blue fuel
According to Aleksey Grivach, an expert at the NESF, the operating expenses of American shale producers exceeded the rapidly declining spot gas prices in Europe. The last recorded price on the American Henry Hub is $ 67. And on the site of TTF (EU) and even less - $ 62 per thousand cubic meters. It turns out that the United States receives some revenue from failures, which is why it is more profitable for them not to supply LNG to Europe than to liquefy and transport them overseas.
Warm winters and minimal fuel demand, worsening due to global quarantine, left UGS facilities in Europe in a record full state - more than 60% at the end of winter. At such a pace, American LNG terminals will simply stop, because both demand and the price of raw materials will be "crushed to the floor."
It is noteworthy that all these crisis phenomena were predicted (up to the refusal of supplies and gas prices) by the chief analyst of the Oxford Institute for Energy Research Mike Fulwood back in 2019, when no one could know about the future coronavirus pandemic.