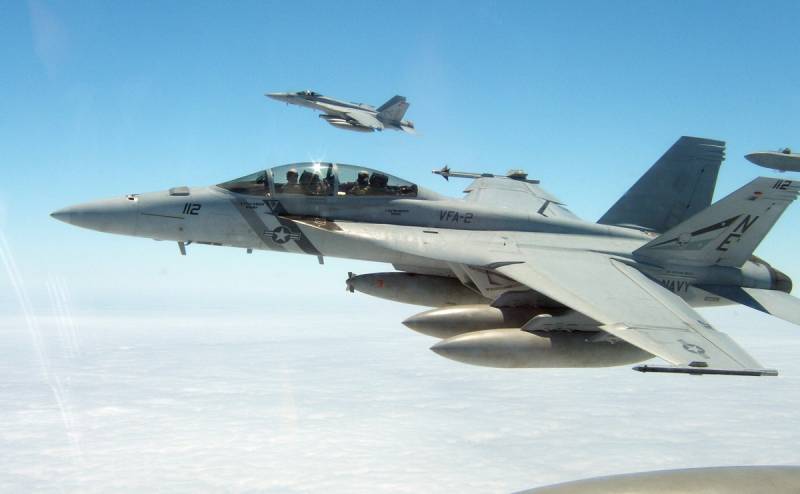 Germany is rapidly starting to "nuclearize". German Minister of Defense Annegret Kramp-Karrenbauer, who was considered the successor to Chancellor Angela Merkel, is frankly building up the US military presence in the country.
According to the Polish edition of Defense24, Frau Kramp-Karrenbauer announced her decision to purchase 45 US fighters in the USA, including 30 F / A-18F Super Hornet and 15 Boeing EA-18 Growler. These aircraft should replace the already obsolete German-made Tornado in the Luftwaffe.
This event cannot but cause alarm in the Russian Ministry of Defense. The fact is that the F / A-18F Super Hornet are potential carriers of nuclear weapons. Currently, the United States has launched a program to upgrade its nuclear arsenal in Europe and Germany, in particular, by allocating several billion dollars for this.
At the German air base in Büchel, a number of American B61 atomic bombs have been stored since Soviet times. The Pentagon intends to replace obsolete samples with their most modern modifications B61-12. As carriers, German Tornado fighters were certified with Luftwaffe pilots at the controls who were supposed to deliver them to the target. In Berlin, this agreement is considered a "strategy for the joint use of nuclear weapons", believing that it gives it the right to influence decision-making on its use.
As you can see, the German Ministry of Defense relies on American nuclear weapons and American carriers. This decision has already caused irritation among representatives of the Social Democratic Party of Germany (SPD), who criticized him. True, they did not advocate "denuclearization" of Germany, but the need to purchase European-made aircraft. As a compromise, Frau Kramp-Karrenbauer agreed to place an order to purchase 93 Eurofighter Typhoon fighter jets from Airbus.