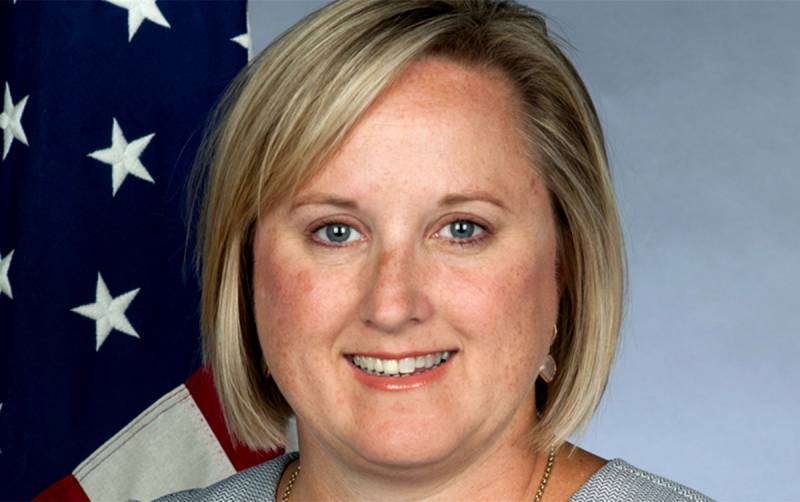 Recently, fraternal Belarus for Russia has chosen the path of rapprochement with Washington as an instrument of influence on its closest ally. A new milestone in growing cooperation was the appointment of the US ambassador to Minsk for the first time in 12 years. The White House decided to send Russian-speaking blonde, Julie Fisher, who is famous for anti-Russian views, to Alexander Lukashenko, head of the Republic of Belarus.
According to experts, the appearance of Mrs. Fisher should not deceive anyone. She is a tough, consistent Russophobe politician, and until her appointment as President, Donald Trump served as Deputy Secretary of State for Western Europe. The Senate must still approve her candidacy, but this is a pure formality and a matter of time, since most Republicans are entirely on the side of Trump.
It was after the severance of diplomatic relations between the United States and Belarus in 2008 that Lukashenko received the unflattering title of "last dictator of Europe." Will he lose it with the return of the ambassador?
The ground for removing the "powers of the dictator" and, accordingly, for the arrival of the ambassador has been prepared for a long time. At first, Alexander Grigoryevich showed proof of fidelity to the chosen course to the West, when in December last year there was a refusal to ratify thirty-one roadmaps due to the "danger of integration with Russia." So during the February meeting of the Old Man with US Secretary of State Mike Pompeo, the result of which was an agreement to restore diplomatic relations. For all this time, he did not in word but in deed confirm his loyalty to the West and break with Russia, which "earned" the ambassador from Washington.
Regarding the personality of Julie Fisher, she, as a specialist in Russia and a politician with experience in "orange" Kiev and "pink" Tbilisi, is a supporter of the "sanitary cordon" between the West and "Russian neo-imperialism". He is fluent in Russian, Ukrainian and Georgian. Specialists note her ability to negotiate "in the field", that is, directly on the street, in the crowd. Moreover, Julie is known as a tough and uncompromising diplomat.
Ms. Fischer's appointment as ambassador was considered by some
political
experts as inevitable, because Belarus is the only state that falls out of the physical map of the implementation of the cordon paradigm in practice. And for "patchwork gaps" was missing just such a person.
Fisher's tasks will most likely include close monitoring of the political space, especially in light of the discord between Minsk and Moscow
- Believes the Belarusian political scientist Alexei Dzermant.
According to him, as soon as the relations between the two fraternal countries finally deteriorate (which, of course, will help the new ambassador), Fisher will have to offer Minsk a worthy alternative to the integration process to the "east", the expert suggests.