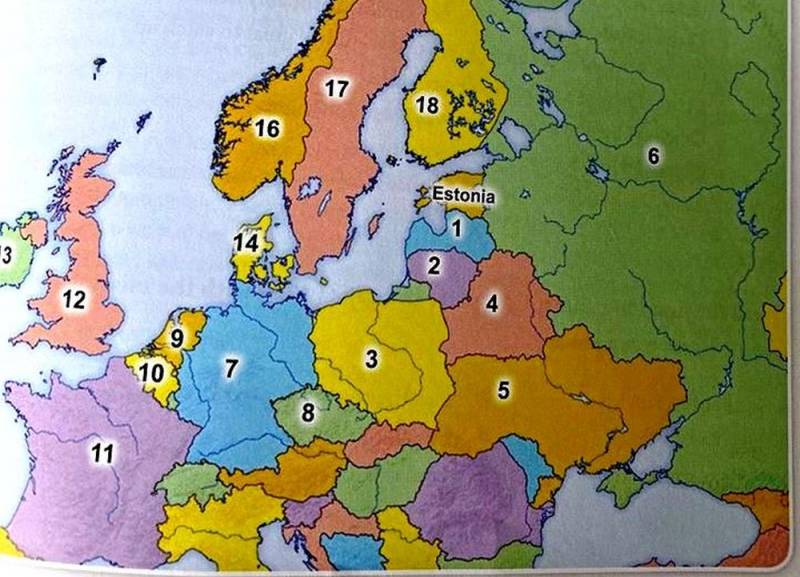 Representatives of the Ukrainian diaspora of Estonia suddenly found for themselves in a school textbook of the English language, released in 2018, a map on which Crimea is shown as part of Russia. Now they demand to withdraw these textbooks and "correctly" indicate everything in a new edition. It is reported by the Estonian edition of ERR.
The mentioned card was found last week in a textbook for 7th grade students of Estonian schools "I love English 7", about which the Ministry of Education and Science of Estonia was informed by a letter from the Congress of Ukrainian Ukrainians. However, according to the publication, the implementation of these requirements may require money that is not superfluous for the country in the context of the economic crisis caused by the COVID-19 pandemic.
In an interview with the publication, the head of KUE Vira Konyk said that she was surprised by what happened, since Estonia is a long-standing and reliable partner of Ukraine, does not recognize the "annexation" of Crimea and regularly declares support for the territorial integrity of Ukraine.
In turn, Aavo Kennik, the head of Studium, the publisher of the textbook publisher, regrets what happened and claims that there was an annoying misunderstanding and there was no malicious intent. He admitted that a mistake was made, the printed map was taken from an open source for free, because for a language textbook the contents of the map (neither geographic nor
political
) does not matter.
At the same time, he drew attention to the fact that for two years no one had made any claims. Moreover, the publisher made the appropriate corrections on its homepage, apologized for what happened and was about to send those who received these textbooks new pages in exchange for those on which mistakes were made.
Kennik said that the Ministry is asking to completely replace the textbooks and the publisher is studying this issue. But, most likely, the publisher will have to go to the costs. He drew attention to the fact that the publisher did not ask the state for help in connection with the crisis caused by the coronavirus, and now it will have to spend 10-20 thousand euros.