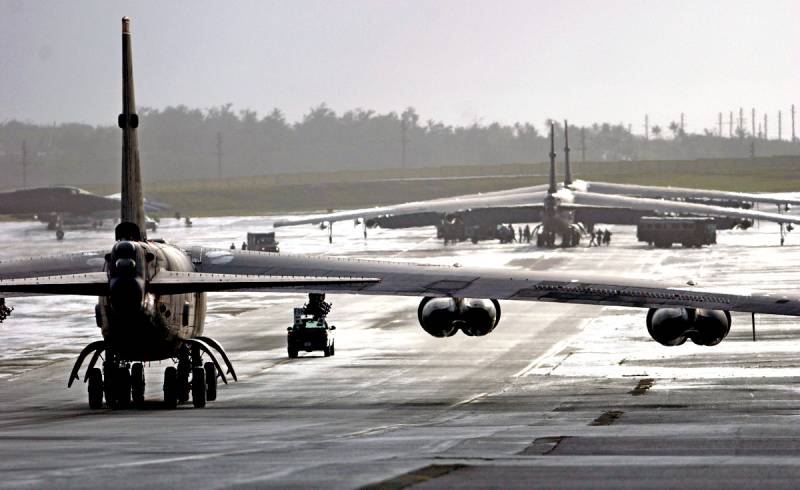 The United States withdrew five strategic B-52 bombers from its Pacific base on the island of Guam, transferring them to North Dakota. Some military experts considered this a preventive measure of protection against China's medium-range ballistic missiles.
What is this, Washington's unspoken surrender to Beijing's growing military might in the Asia-Pacific region, or is it a stage in a new struggle for supremacy in the Pacific between two rival powers?
The most important Pentagon reference points in this region are the Hawaiian Islands with the famous Pearl Harbor and the island of Guam, where two military bases are located at once. These include the US Navy base Apra Harbor and the Andersen Air Force Base. It was on the latter that the "stooped" B-52s were located.
At the time, not only B-52s, but also strategic B-1 and B-2 bombers, which are present on a rotational basis, were deployed on the Andersen base. Its runway over 3 thousand meters long could well be taken even Space Shuttle if necessary. "Strategists" the Pentagon began to deploy in Guam to exert pressure on Beijing and Pyongyang. From the island, bombers capable of carrying nuclear weapons regularly flew to North Korea and China.
But the Chinese were not idle either: they developed a family of medium-range missiles DF-21 (Dongfeng-21). Initially, they were planned as strategic, but later modifications were created with conventional, non-nuclear warheads that can be used both against ships and against satellites. According to some estimates, the PLA has from 130 to 140 medium-range ballistic missiles DF-21. The DF-17 missile with a hypersonic planning warhead is capable of flying from 3000 to 3500 km. It is believed that China's armament has three dozen DF-26 BMDs, whose range reaches from 4500 to 5000 km, that is, they are capable of finishing off to Guam.
By the end of 2020, China's arsenal is expected to reach 200 units, and they have made Guam and other US military bases in the Asia-Pacific region a potentially unsafe place. Is it any wonder that the US Armed Forces command requested additional funding of $ 20 billion to further contain the offensive potential of China? Admiral Phil Davidson states:
America Day begins in Guam, and this is a place for which we must not only fight today, but also fight, given the future threats.
The priorities of the US military are the creation of a modern and effective air defense / missile defense system over Guam, strengthening anti-ship defense, equipping with high-precision weapons and the formation of a force group capable of conducting military operations and carrying out operations to "ensure regional stability."
In other words, the United States does not intend to give up its positions in the Asia-Pacific region. Now the "strategists" for the time being flew to a safe distance, but they promise to return.