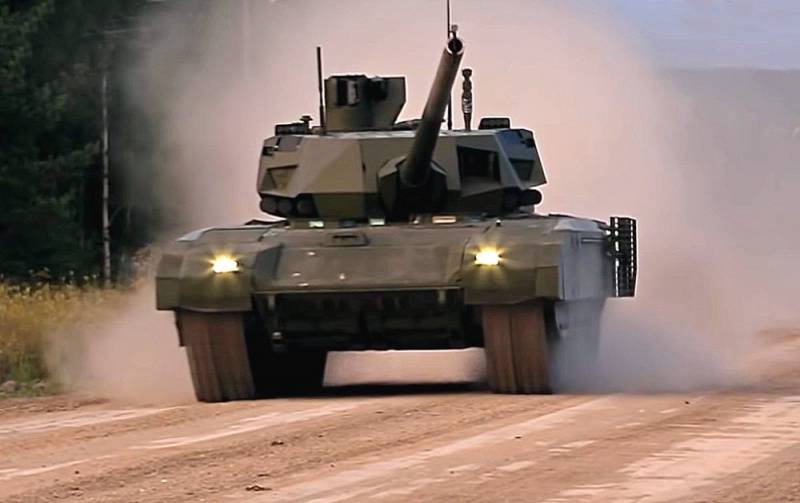 Russian authorities have announced the testing of the latest T-14 tanks in the Syrian Arab Republic. However, no specific data was provided, writes The Drive.
With the exception of a small number of BMPT Terminator, Russia had not previously sent heavy armored vehicles to Syria for its needs. Several T-90 tanks that guard the Khmeimim airbase and do not participate in hostilities do not count. Even if a certain amount of T-14 Armata was indeed aimed at the war, the Russian military was definitely very cautious and hardly involved a new one.
machinery
in real battles. No one needs combat losses.
It is well known that terrorist groups are actively using anti-tank systems. Yes, it can be stated that the T-14 has improved passive armor, and also has a modern active defense system that is designed to combat ATGMs. It's true. The special design of the tank also made the crew less vulnerable by placing soldiers in an armored capsule and making the tower uninhabited. Nevertheless, there is a possibility that, under a certain set of circumstances, the tank may be destroyed, which will become an extremely undesirable event for the Kremlin.
Sending the T-14 to Syria, even for a short time, can still be useful for Russia's "propaganda goals," writes The Drive. This fact will demonstrate the country's continued commitment to an advanced tank project, despite the existing problems. But they are. In 2015, authorities announced that by 2020 there will be at least 100 T-14 tanks in the army. That did not happen.