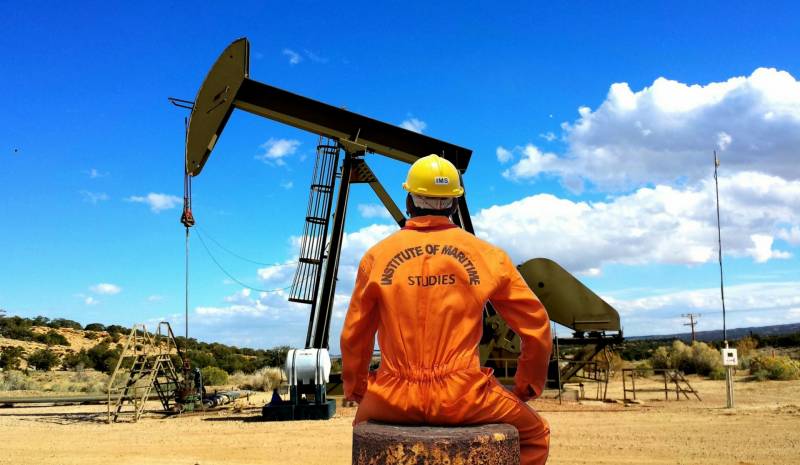 World media comment on the largest ever collapse in world oil prices, agreeing in general that an unprecedented catastrophe has occurred. Particular attention is focused on the United States, which is both the largest producer and consumer of this raw material.
Recall that on the night of April 21, Moscow time, futures for oil of the Texas brand WTI reached negative values ​​of minus $ 40 per barrel. That is, the seller was ready to pay extra to the buyer.
Brittanya
Financial Times
writes that although shale
Technology
turned the USA into a major player in the extraction of black gold, which America used in its foreign
policy
, now these glorious days are a thing of the past. Forecasts are also not encouraging.
Stephen Shork, Oil Market Newsletter Editor The schork report, expects that the places in the US oil storage facilities will be exhausted within two weeks, and warned that the decline in consumption of raw materials in the country is accelerating
- reports the British business publication.
The expert added that the sharply rising unemployment rate means that fewer and fewer Americans will use their cars, which will lead to a decrease in gas demand even in the summer vacation months.
State of concern
economics
intensified by the growing confrontation between the US president and state governors over whether the authorities can begin to remove restrictions on movement and opening a business. World oil prices are expected to begin to recover in the second half of the year, as severe travel restrictions to curb the spread of the virus will be lifted, which will increase fuel demand.
- writes the British newspaper
The Guardian
.
Has touched and
The New York Times
. The newspaper believes that the reduction in oil production, which went to Saudi Arabia, Russia and other exporting countries, is not sufficient in conditions of an unprecedented drop in demand.
Similarly, the newspaper evaluates the situation.
Gulf News
from the United Arab Emirates.
Analysts say the agreement between OPEC and its partners to reduce production had only a small impact on prices. However, billions of people still remain at home, which means that fuel demand will remain low.
- the newspaper gives its assessment of what is happening.
Authoritative American resource
Political
also could not ignore the collapse of quotes.
For decades, American politicians have made every effort so that the shock from stopping oil supplies, which damaged the US economy in the seventies, does not happen again - and they created a national reserve. But due to the fact that at the end of last year, oil production in the United States reached record levels, and storage tanks are now filled to capacity, Washington has few tools to raise oil prices to levels necessary to maintain the industry
- noted in an analytical article.
Thus, the collapse of oil quotes - this is only the beginning. In the coming weeks, analysts expect further deterioration in the energy market.