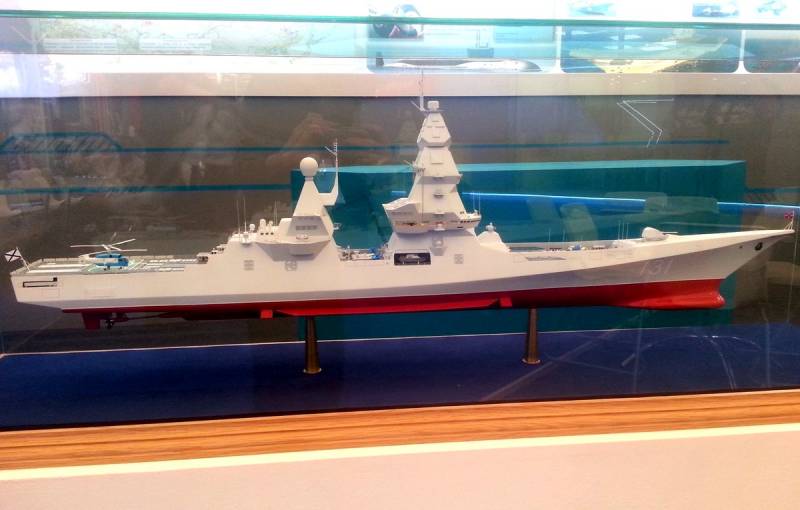 Apparently, Russia will remain a "land power" in the foreseeable future. Plans for the construction of full-fledged aircraft carriers did not cause anything but a smile for understanding people. Now, the promising nuclear destroyer Leader of project 23560 and the modernized frigate of project 22350M went under the knife.
What is it, a reasonable saving in difficult times or a silent rejection of claims for a distant sea zone (DMZ)?
After the collapse of the USSR, the number of ships in the Navy capable of operating in the DMZ sharply decreased. Unfortunately, its restoration will now have to be forgotten for a long time. From the information that leaked into open access, it became known that work on projects 23560 and 22350M was suspended a few years ago, in 2016, although beautiful models of warships continued to wander from exhibition to exhibition.
What will not receive our country?
The project of the destroyer with a nuclear power plant "Leader" impressed with its characteristics. In fact, it was not even a destroyer, but a real missile cruiser, capable of operating in the ocean zone. One ship was supposed to replace three classes at once: missile cruisers of project 1164 Atlant, destroyers of project 956 code Sarych, and BOD project 1155 Frigate.
In terms of strike capabilities, the Leaders would be second only to the Eagles, which include the Peter the Great nuclear missile cruiser, the flagship of the Northern Fleet. The destroyer with a nuclear installation was to become the carrier of the Caliber-NK, Onyx and hypersonic Zircon cruise missiles. Thanks to its power plant, the ship could operate in the far sea zone, projecting force in the rear or on the communications of a potential adversary, by which we traditionally mean the United States with its fleet.
"Leaders" were good, but their complexity and high cost of creation played against them. According to some estimates, the cost of one destroyer would be about 100 billion rubles, but in reality, probably more. However, this project was not even buried now, when oil quotes forced to shed tears, and back in 2016. Apparently, the Ministry of Defense of the Russian Federation considered that the probability of a marine non-nuclear war with the Pentagon somewhere in the Atlantic or in the Pacific Ocean is so small that it is not worth spending such funds on a "representative" ship.
More questions are caused by the "drain" of the project 22350M. This is a modernized version of the already built Admiral Gorshkov with increased displacement and ammunition. At each such frigate, 48 units of Onyx, Zircon and Caliber cruise missiles were to be installed. Unlike the futuristic Leader, this is quite a "workhorse", which the Russian Navy really needs. Apparently, the catch is still in the engines, the problem with which arose due to the breakdown of industrial cooperation with Ukraine.
In general, the distant ocean expanses to our Navy do not shine for a long time.