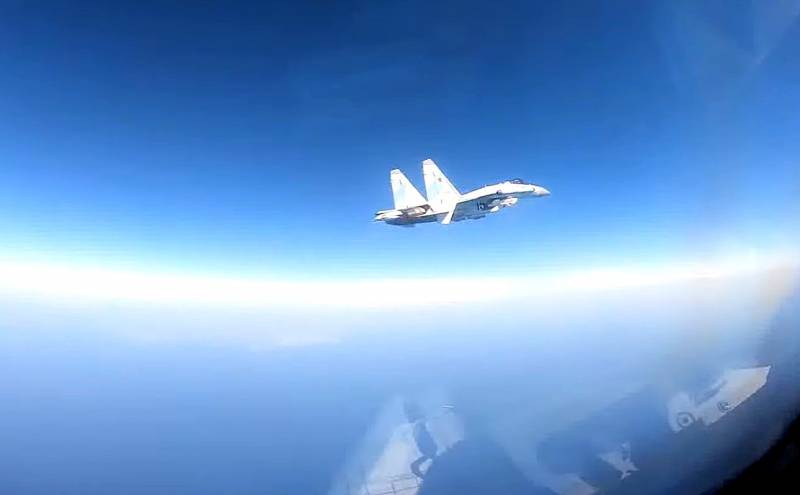 A video of convergence of the Su-35 fighter of the Russian Aerospace Forces and the US Air Force R-8A "Poseidon" anti-submarine aircraft over the Mediterranean Sea appeared on the Web. The footage of the high-speed fighter maneuver was published by the US military.
A Russian plane flies in the immediate vicinity of the Poseidon, approaching it at a dangerous distance, then going up.
Previously we
wrote
about the indignation of the American side over the "dangerous rapprochement of the two aircraft."
Russian Su-35 fighter approached 25 feet from a P-8A naval observation aircraft in international airspace over the Mediterranean Sea
- the statement said the US military.
The Su-35 is a highly maneuverable multi-purpose fighter aircraft with a controlled thrust vector of the 4 ++ generation. It was developed in the Sukhoi Design Bureau in 2008. This is one of the main fighters of the Russian Air Force, a transitional link between the Su-27 and Su-57. Su-35S is a serial fighter for the Russian Aerospace Forces.
R-8A "Poseidon" - one of the modifications of the anti-submarine Boeing R-8, the purpose of which is to find and destroy enemy submarines, as well as participate in military rescue operations and action against ships in the oceans and coastal areas. The aircraft can carry up to 9 tons of weapons. The U.S. Navy ordered 122 R-8A aircraft, and by September 2018, 89 units were delivered.