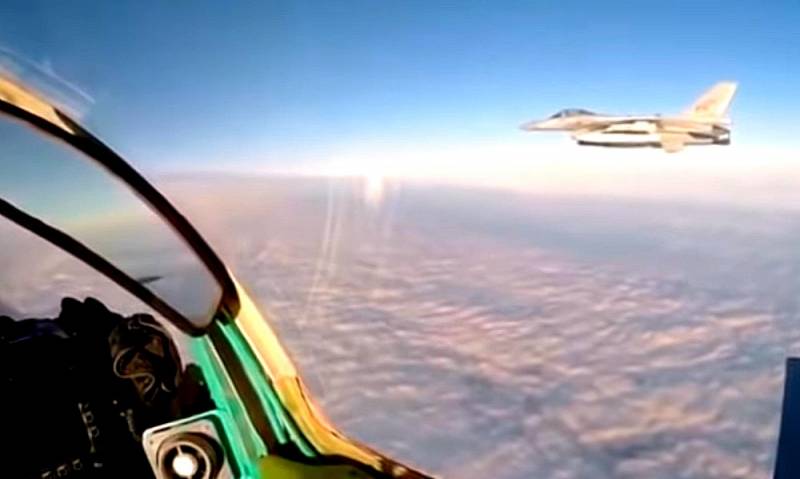 Social network users are discussing a video taken from the cockpit of a Russian supersonic high-altitude all-weather MiG-31 long-range interceptor fighter while escorting a Tu-95MS turboprop strategic bomber / missile carrier. The video documented the stage of flight in international airspace when an F-16 fighter of one of the NATO countries approached a group of Russian aircraft.
After the appearance of the NATO fighter, the Russian pilot sent his interceptor fighter, guarding and escorting the "strategist", towards the "guest". Thus, the MiG-31 prevented a NATO fighter from approaching the Tu-95MS, taking a position between the "strategist" and the "guest", making it clear that further rapprochement is unsafe.
On visual contact, a polite Russian waved a friendly hand at a NATO colleague. He showed the palm of his hand "give way", and then added a second gesture, "cool work", showing a thumb pointing to the top. After that, the F-16 pilot went off to the side, but at parting unfriendly showed the Russians the ammunition placed under the wings.
One of the commentators joked that "the MiG-31 monitors compliance with the safe distance established by the Ministry of Health and the presence of a mask" during a pandemic.
It must be recalled that NATO fighters regularly try to fly up to the Russian "strategists" who plow the international space. At the same time, representatives of NATO with the same regularity complain that the Russians "offend" them in the sky.
For example, recently the crew of the American patrol plane R-8A "Poseidon"
sneaky
on the "wrong" interception by a Russian Su-35 fighter over the Mediterranean Sea. So the MiG-31 pilot did everything right.