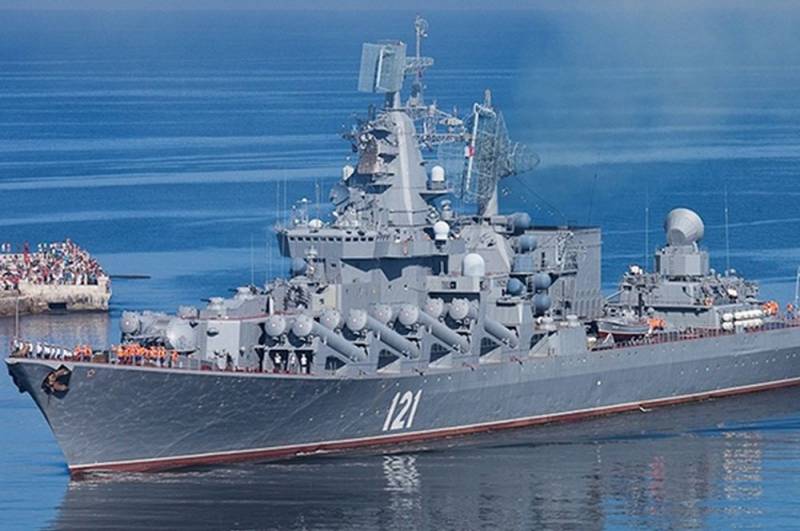 The flagship of the Black Sea Fleet of the Russian Navy, the guards of the Nakhimov Order of the missile cruiser "Moscow" (GRKR "Moscow", project 1164 "Atlant") are going to be sent to the Mediterranean Sea in late summer 2020. The ship will perform tasks as part of the squadron of the Russian Navy, constantly operating off the coast of Syria.
About this agency
TASS
two sources in the defense industry reported. At the same time, according to the agency, the High Command of the Russian Navy refused to comment on this information.
April 20, "Moscow" will dock in the enterprise "Remkor" at the final stage of repair, fully restore
technical
ship readiness is scheduled for July. Then the cruiser's crew will pass the course tasks in the Black Sea and in August the ship should go on a long voyage to the Mediterranean Sea
- said one of the sources.
Moreover, the second source confirmed the information on the timing of completion of repairs, specifying that "the cruiser will go to the Mediterranean zone to perform tasks as part of the permanent Russian squadron."
We remind you that from September 2015 to January 2016 this ship headed the operational connection of the Russian Navy in the Mediterranean Sea. At the same time, he covered up the Khmeimim airbase in Syria with his air defense means when Russia stood up for official Damascus.
After that, the cruiser returned to Sevastopol and stood at the pier for 2,5 years in anticipation of repairs. Some "experts" even predicted the disposal of this beautiful, powerful and necessary ship. But in the middle of 2018, the long-awaited repair began, and in June 2019 the cruiser already went to sea to check the operation of the power plant.