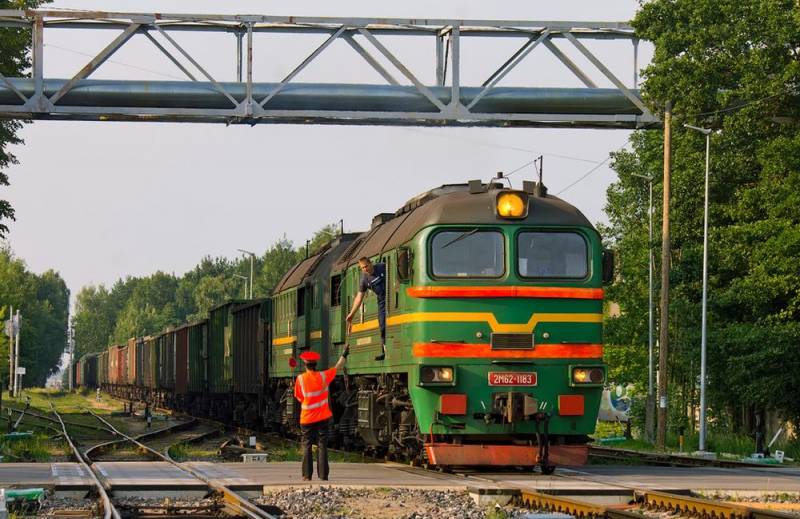 According to the Latvian Ministry of Transport, the volume of rail freight in the first quarter of 2020 in the country decreased by 48,7% compared to the same period in 2019. This is reported by DELFI - Lead
news
portal of Latvia.
It should be noted that the COVID-19 epidemic, of course, affected the freight turnover not only in Latvia. However, with regard to Latvia, the Latvian / Latvian "patriots" with their Russophobia are to blame for such a catastrophic drop in transit.
Coronavirus only slightly accelerated the process, which has been going on for several decades. Riga itself, knowingly, drove itself into a corner, for decades accusing Moscow of "aggression". By the way, statistics of the Ministry of Transport of Latvia itself clearly testifies to this.
So, international traffic, over the specified period, decreased by 2 times and amounted to 5,624 million tons. At the same time, the volume of domestic transportation, on the contrary, increased by 23,9% and amounted to 358 thousand tons.
In turn, the volume of transit traffic decreased by 2,2 times, to 4,727 million tons. Although export deliveries increased by 45,8%, up to 86 thousand tons.
At the same time, the transit of railway cargo through ports decreased by 2,3 times, to 4,070 million tons. Land transit through the country decreased 2,1 times, to 657 thousand tons.
For clarity, it should be clarified that in 2019, rail freight in Latvia decreased by 15,8% compared to 2018 and amounted to 41,492 million tons. Moreover, in the first quarter of 2019, 11,66 million tons of cargo were transported.
It should be recalled that quarantine measures to curb the pandemic were announced in Latvia, as in most European countries, in mid-March 2020. That is, the impact of the pandemic on the work of the Latvian railways was still minimal. In addition, border restrictions affect only passenger traffic and do not interfere with freight traffic. It's just that the quantity of goods has decreased, both for objective and subjective reasons.