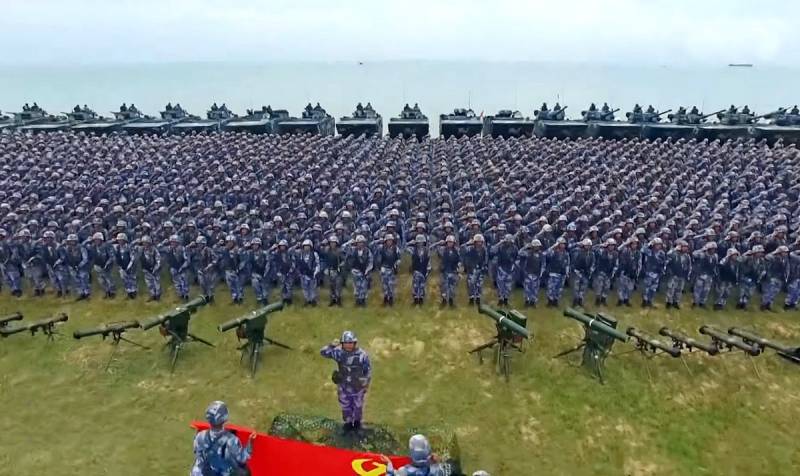 The world can expect a big geopolitical crisis at the end of this or at the beginning of 2021, writes Peter Jennings on the website of The Strategist at the Australian Institute of Strategic
policy
. Since coronavirus reduces the effectiveness of the military power of the West, the PLA may not have a better time to block the Taiwan Strait and act against the island itself, a military expert from the "green continent" believes.
The essence of the problem lies in the desire of the Chinese Communist Party to move out of the Covid-19 pandemic to strategically stronger positions in the Asia-Pacific region, surpassing the United States and its allies
- the text of his publication says.
The article claims that the Chinese military is now active in the waters and airspace around Taiwan, Japan and South Korea, as well as conducting active exercises in the South China Sea.
At the same time, the state-owned media in China, according to the author, incite aggressive nationalism. Thus, the Global Times, an English-language newspaper of the Chinese Communist Party, published an editorial on April 4, which said:
If the Taiwan issue leads to a clash between China and the United States, then, regardless of its outcome, the island itself will pay an incredibly high price ...
Beijing's attacks on Taiwan can hardly be considered anything new, the author writes, but in the first months of 2020, observers began to notice a significant increase in China's military activity around Taiwan.
The ideological implication of what is happening is also important, the Australian expert believes. Beijing uses the coronavirus to position itself as the savior of much of the world, sending medical equipment and doctors, and loudly declaring that authoritarianism is better at dealing with the virus than Western democracy. Taiwan is now a successful liberal democracy. He showed that he was coping with the Covid-19 epidemic without resorting to repressive measures. And the Taiwanese themselves never supported unification with the mainland.
As a fundamentally different and successful model of political organization, Taiwan threatens the personal power of Chinese President Xi Jinping and the credibility of the CCP, continues Mr. Jennings. The new crisis around the Taiwan Strait will immediately push the region to a dangerous situation of the level of the Cold War, which will be a test of the authority of the United States as a Pacific power. There is no guarantee that the blockade will not fall into a major conflict involving the United States and its allies.
According to the author, the task of Washington, Canberra and their allies is to convincingly convey to the Chinese the thought of the destructiveness of such an escalation.