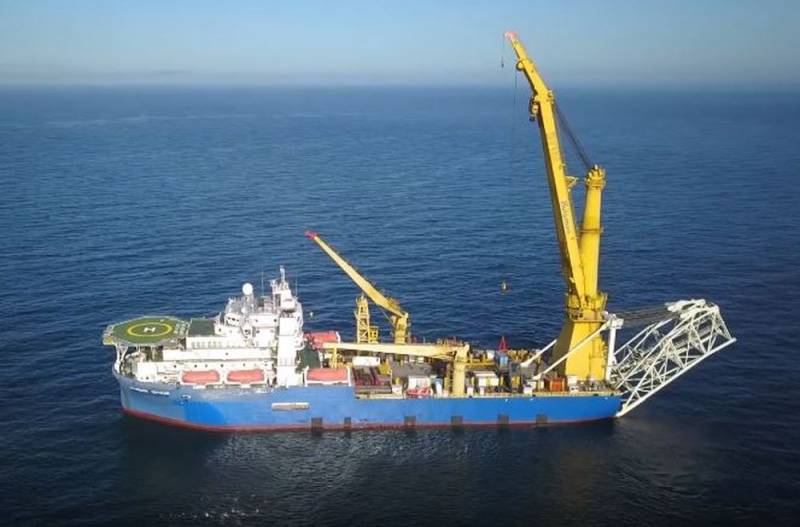 The Akademik Cherskiy crane-laying pipe-laying vessel continues its voyage from the Sea of ​​Japan to the Baltic Sea to go through retrofitting and proceed with the completion of the Nord Stream-2 gas pipeline. Marine monitoring and navigation services, services and portals continue to observe with interest the journey and inform the public.
According to their data, KMTUS "Academic Chersky" has already covered 80% of the distance from Nakhodka to Kaliningrad. At the same time, it is not specified whether Russian warships continue to accompany him. It is only noted that the ship should arrive in the amber region of Russia in the evening of May 2, 2020, if it maintains its speed.
After the United States imposed sanctions on the Nord Stream-2019 contractor of the Swiss company Allseas in December 2, its pipe-laying vessels stopped the construction of the pipeline, and the company itself refused to continue to participate in the project. February 9, 2020 KMTUS "Academic Chersky" went to sea and headed for Singapore. However, the ship did not enter Singapore, but sailed to the Indian Ocean and on March 3, 2020 approached the shores of Sri Lanka.
All this time the ship was accompanied by the Admiral Vinogradov BPC of the Pacific Fleet of the Russian Navy. In Sri Lanka, the vessel replenished its supplies and headed with the Yaroslav the Wise Baltic Fleet escort towards the Gulf of Aden, where they were awaited by support vessels (tanker Yelnya and tugboat Viktor Konetsky).
After that, KMTUS "Academic Chersky" made a maneuver and headed not to the north, but to the south, to the shores of Mozambique. On April 6, 2020, a vessel safely circling the African continent was
fixed
off the coast of Angola. There, it headed for the port of Las Palmas, located in the Canary Islands (Spain), where it should arrive on April 18, 2020.
April 14, 2020 the ship was
detected
off the coast of Mauritania and Western Sahara, after which there was information that it would go not to St. Petersburg, but to Kaliningrad. To the destination he had to overcome 3,16 thousand miles (5,85 thousand km), it had already passed 13,27 thousand miles (24,5 thousand km).