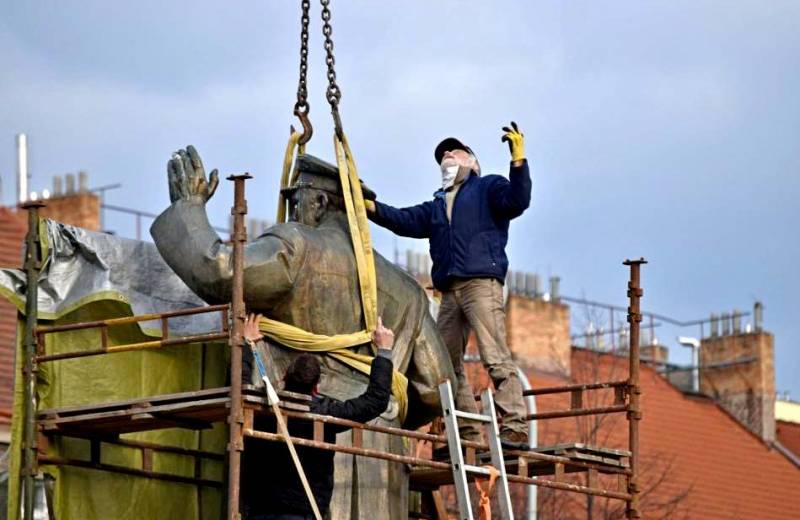 There is further evidence that
policy
The Russian Federation is a faithful continuation of the line previously pursued by the Soviet Union, writes journalist Jerzy Bukowski on the Dziennik Polonijny website (a resource of Polish community in the United States and Canada).
The author recalls that on the eve of the State Duma introduced amendments to the Criminal Code, thereby making it possible to prosecute all those who destroy or damage the graves and obelisks of the Red Army soldiers who fell in the battles for the liberation of Europe. The maximum penalty for violation is a fine of up to five million rubles or imprisonment.
Responsible persons of the Russian Federation must now arrest officials and politicians of those countries in which such "relics of communism" are systematically dismantled, Bukovsky believes. The opinion is expressed that the Russian Foreign Ministry should also expel the ambassadors of those countries that are especially active in the "policy of destroying the memory of victory in the Great Patriotic War."
I do not think that Putin would have allowed such an unfriendly act as diplomatic repression, but the threat has been formulated and can be used in a situation of growing political tension
- noted in the text.
However, Mr. Bukowski doubts the feasibility of Russian initiatives.
It is hard to imagine that the authorities of any country in which the Red Army is considered a symbol of enslavement, not liberation, and where the so-called monuments of gratitude are liquidated [...], would extradite their officials to Russian prosecutors. If anyone still had doubts as to whether modern Russia is different from communist [...], now it is finally necessary to get rid of them

- the author believes.
The exact number of monuments of the "communist period" demolished by the Polish authorities after a dramatic "parting with the past" remains unknown. So, in the above publication it is indicated that "more than 100 have been demolished since 1989." However, according to some reports, we can talk about thousands of such places. If at first the images of Lenin were destroyed, for example, as they were disposed of, official Warsaw eventually reached the monuments to the Red Army.
In Russia, public outrage was also aroused by the recent dismantling by the authorities of the Czech capital of Prague of a monument to Marshal Ivan Konev. According to the Czechs, a more neutral monument to the liberators of the city should take its place.