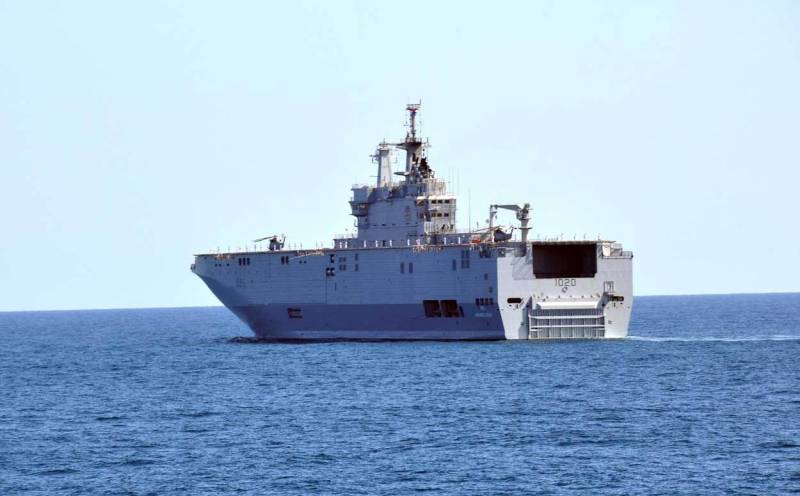 New helicopter carriers will cost Russia less than $ 650 million per unit, they will begin to lay by the end of 2020. About this writes the American edition of Military Watch.
The cost of two future helicopter carriers - "Sevastopol" and "Vladivostok", revealed sources from the Russian military-industrial complex. New aircraft-carrying warships should be laid at the shipyards of the Crimea before the end of this year and launched in 2022. Their displacement will be about 25 thousand tons, the length will be about 220 meters, various helicopters, including attack Ka-52 Alligator, will be based on them.
Before that, the Russian Navy was going to acquire 4-5 Mistral class ships (with a displacement of about 35 thousand tons), as part of a cooperation program with France. But because of the events in Ukraine, this deal ended to no avail and two finished Mistral were sold to Egypt.
At the same time, Russia gained access to the French
technology
which the Russian shipbuilders managed to master.
Previously, the USSR was one of the leading aircraft carrier powers on the planet, but the collapse of the country, the crisis in the 1990s and the loss of large Ukrainian shipyards threw Russian shipbuilding several decades ago.
The new helicopter carriers will be the heaviest surface warships built by Russia since the USSR, and the program itself can pave the way for the construction of medium and heavy aircraft carriers.
Currently, Russia is developing a fighter with a vertical / short take-off and landing as a successor to the Soviet Yak-141. Therefore, it is likely that in the future these fighters may appear on Sevastopol and Vladivostok.