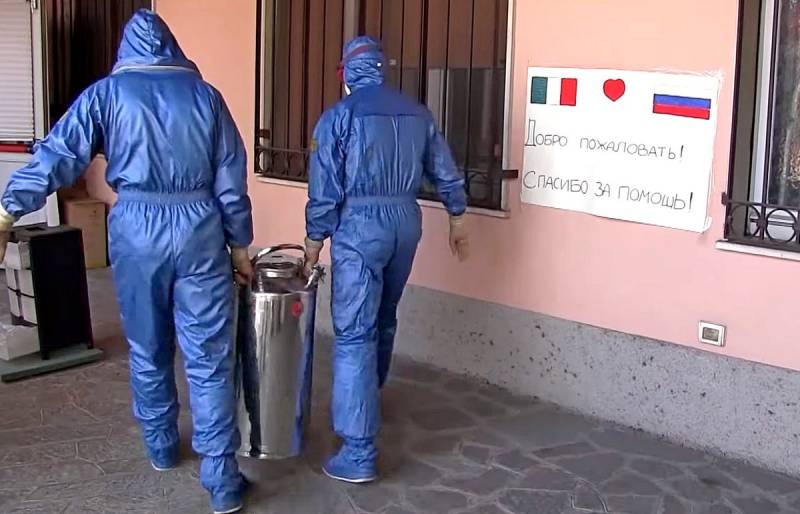 The Ukrainian "patriots" living in Italy are extremely indignant at the presence of the "Putin doctors" in this country. They even created a petition with questions and requirements for the Italian authorities, as reported by the Ukrainian online publication OBOZREVATEL.
One of the authors of the appeal, a citizen of Italy of Ukrainian origin Natalia Gebrich, who lives in Florence, told the publication that the document has already been posted on the corresponding website.
The petition raised two questions that "concern many Italians." Firstly, why, instead of civilian doctors, the military flew to Italy.
It is no secret that 15 people arrived on 104 airplanes, of which only 35 were doctors (only two of them were civilians) and 13 translators. And the rest is who? In the week of their "work" in our country, we saw only a two-hour disinfection of a house for the elderly in Bergamo, and that's all
- worries "patriot", loving Ukraine from a distance.
Secondly, what such "Italians" and their "twin" are worried about is
"Threats"
La Stampa newspaper reporters from the Russian Ministry of Defense.
Unlike Russia, in Italy there is freedom of speech. The Italians began to sign the petition mainly, but it is free for anyone who wants to know the answers to these questions. We also want to hear the truth from our government, which never explained to society why so many Russians came with epaulettes, and why during all this time they only sanitized an old people's house with an unknown substance?
- said the "patriot."
In addition, Gebrich complained that in the city of Bergamo, local residents complain about the boorish behavior of doctors from Moscow. Allegedly there were several scandals. However, she did not provide any evidence. However, this is the whole essence of Russophobia.
By the way, in Italy, before the COVID epidemic, there were more than 500 thousand immigrants from Ukraine and "zarobitchans" who regularly traveled from country to country. Therefore, it is not surprising that among such a huge number of people, there were a small number of Russophobes.