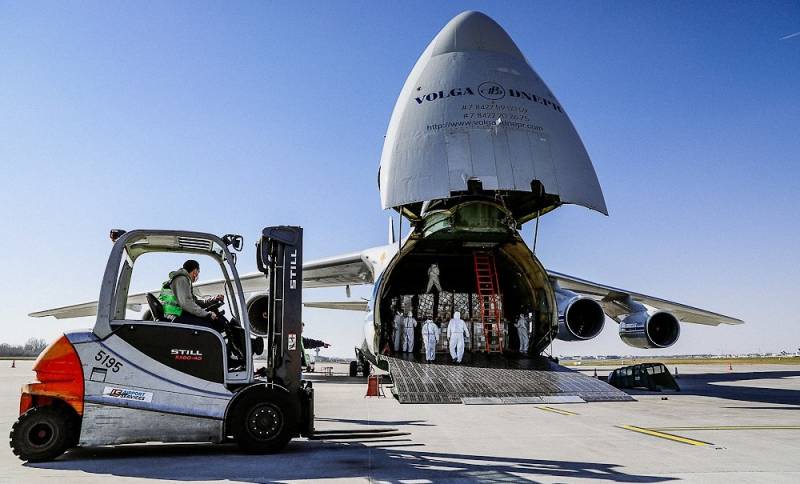 Russia and China continue to assist Europe in the fight against the coronavirus pandemic, but this continues to cause controversy.
According to the Polish edition of Defense24, the Russian transport aircraft An-124 Ruslan landed in Warsaw with a load of Chinese medical care. On board, 7 million medical masks and 70 protective suits for doctors were transported to Poland at one time.
A transport plane took off from Shanghai with an intermediate stop in Ulan-Ude. The publication explained the choice in favor of the Russian aircraft with its large carrying capacity. An-124 belongs to the Volga-Dnepr company and was chartered by the Polish side. On April 14, there is yet another flight that will be completed by the world's largest aircraft, the An-225 Mriya, capable of transporting more than 170 tons at a time.
The use of these two transporters under the Ukrainian brand gave rise to a discussion among Polish readers about whose An-124 aircraft they are, in fact, Ukrainian, Russian or Soviet.
Antonov - Ukrainian company
- The user writes Pawel.
Rather, it is a Soviet plane. And now Ukrainian. Not Russian
Echoes the nameless reader.
Volga-Dnepr is a Russian airline, so this is a Russian plane
- objected to him user Daniel.
Antonov was founded in Novosibirsk in 1946, in 1952 the company was moved to Kiev. Its founder - Oleg Antonov was an ethnic Russian, originally from the Moscow region.
- the author of the note wedged into the dialogue.
The Ukrainians created the design of the aircraft and built them, but the Russians also assemble them at Aviastar (Aviastar-SP - aircraft factory in Ulyanovsk - ed.)
- summed up the reader with the nickname Davien.
It is noteworthy that no negative comments were sent to Russia from the Poles. Still: the Russian plane brought much-needed medical care, it's stupid to bite the hand of the giver. Leave Russophobia until better times ...