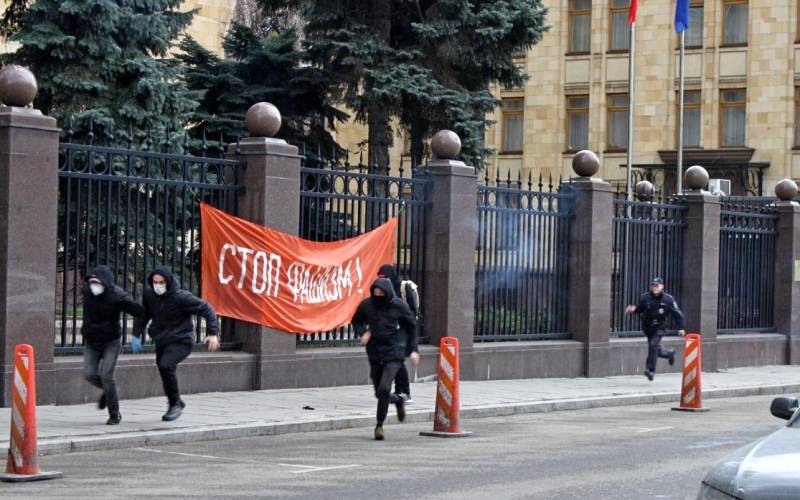 The Czech network resource iDNES.cz devoted its informational material to the high-profile rally that was held at the country's embassy in Moscow by the unregistered left-wing radical party Other Russia, in response to the dismantling of the monument to Marshal Ivan Konev in Prague.
Members of the organization on the eve fixed on the fence of the diplomatic mission a poster with the inscription "Stop fascism" and threw a smoke bomb into its territory.
"Another Russia," the text says, calls on the Foreign Ministry and the Russian Ministry of Defense to take appropriate diplomatic and "if necessary, not only diplomatic" steps to "convince their European colleagues that Russophobia in any form will not go unpunished." The text of the party's appeal ends with the words "Our tanks will be in Prague!"
Below are the individual opinions of the Czechs themselves, who gave their assessment of what happened in the comment section.
That's why the statue was moved. Because there were Russian tanks, and we all hope that this will not happen again.

According to the Russian reaction, it is clear that the marshal was removed correctly.

I would be very interested to know the Russian definition of fascism. So far I have got the impression that the Russian interpretation says: "Whoever doesn't repeat our speeches, doesn't write the Cyrillic alphabet and doesn't hang Putin's image, he's also a fascist."

I am for the return of the statue of Marshal Konev if they build a monument on Czech Red Legionnaires who wanted to free Russia from the Bolshevik mafia.

Russia has always been fascinated by Nazism (and vice versa), and they all regret that their ally did not keep his word and attacked them.

Sure. Who is not with us is a fascist. And when will they finally learn to respect (they had 30 years since the withdrawal of the occupying forces) our sovereignty? We set up the memorial ourselves, or we can remove it again. No agreement with Russia plays a role ...

Your tanks won't even cross Red Square guys.

This is ridiculous when under the sign "Stop Fascism" people appear who are engaged in the construction of fascism in Russia, where they can forget about democracy.

Interestingly, no one was arrested, although all embassies are usually under constant police protection, and in Russia, of course, also under the supervision of special services.

Stop fascism? And who, until June 22, 1941, was an ally of the German fascists and attacked Poland with them? But the Russians before this date simply have some kind of amnesia. The whole nation.

The red fanatics still did not understand that the statue was installed in Prague-6 and is the property of this area. Prague-6 decides how to remove its property from public space without saying anything to anyone, including the ever-drunk Russian peasants.