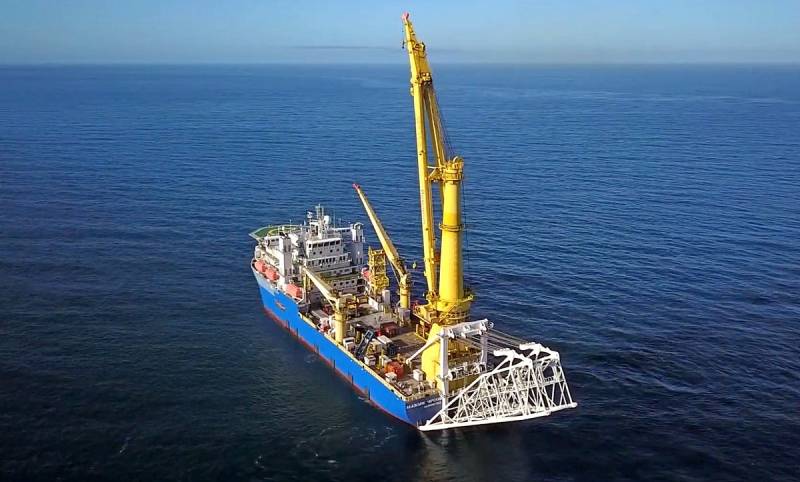 Information on the gradual advancement of the Akademik Chersky pipe-laying vessel, proceeding from the Nakhodka port to the Baltic Sea, regularly appears in the domestic media. Such increased attention to his route is due to the fact that this vessel is the only one in the Russian fleet capable of completing the Nord Stream-2 gas pipeline.
It is noteworthy that analysts from the not very friendly organization towards Russia called The Jamestown Foundation (TJF) saw a deceptive trick in the unusual maneuvers of Academician Chersky.
The fact is that this ship is the only one with a class three dynamic positioning system (DP3), which meets the requirements of Denmark for working in its territorial waters. True, he will still need additional retrofitting in St. Petersburg or Kaliningrad to complete the underwater part of the Nord Stream-2.
American analysts believe that the wide coverage of the Academician Chersky route in the media can serve as an informational "smoke screen" designed to divert all the attention of the West. In their opinion, the most preferred option for Gazprom may be the use of several vessels at once, such as the Fortuna barge. Yes, it does not have the required dynamic positioning system, but can be fixed at anchors. Another option for using a small barge would be its "binding" to the vessel with DP3.
Analysts at The Jamestown Foundation with undisguised gloating note that in any case, Gazprom and any of its possible foreign contractors will have to deal with the problem of possible sanctions by the State Department and the US Treasury.