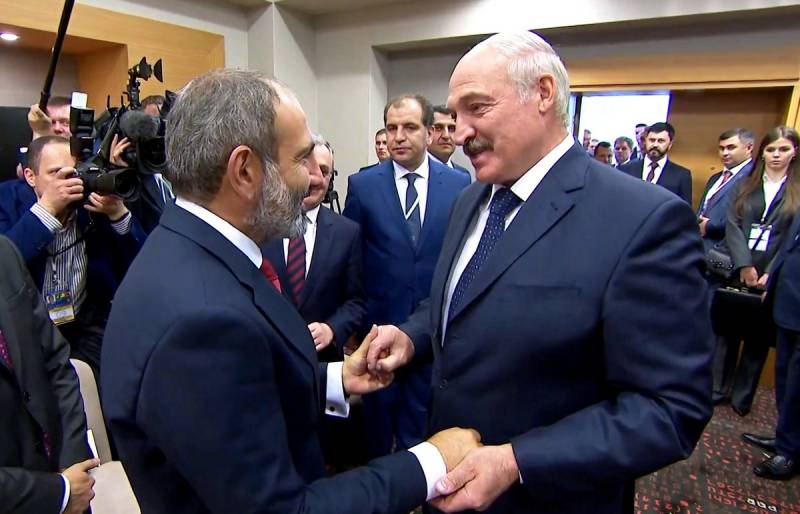 Against the backdrop of the coronavirus pandemic raging in the world and the global "oil war", which brought down the prices of "black gold" on world markets, a small, sluggish, but extremely unpleasant "war", which has been waged between Minsk since last year, somehow quietly receded into the background. and Moscow again because of energy supplies.
Meanwhile, in the guise of global events in a union Belarus, they not only rushed to declare themselves winners in this conflict, but also seemed to set about building a coalition whose goal was to "knock out" the most favorable terms for energy supplies from Russia. What is really going on?
Or maybe for free ?!
First of all, it is about the statement made by the Prime Minister of Belarus Sergey Rumas regarding the fact that Minsk has very real (according to him) hopes for receiving 2 million tons of oil from our country at an absolutely ridiculous price of 4 dollars per barrel. Surprisingly, it's not at all free. It sounds, the word is right, like a relocation of a commander who took an enemy fortress in fulfillment of the wise orders of a strict but fair commander in chief. Like, he gave Lukashenko an "installation", and not some, but "consistent and tough" one, to "push" the Russian side to the last, using the extremely negative market conditions that are taking shape today - and we are happy to try! Here - squeezed out! The price is below all conceivable limits, for suppliers - a shish is vigorous instead of a premium. Everything, as Old Man ordered! Feel free to check holes for orders on jackets now. That's just PR, but in reality I would not advise Minsk negotiators to spoil expensive, for sure, clothes. Firstly, if we carefully analyze the words of the Belarusian prime minister, we are talking about nothing more than hopes. You never know who hopes for it - the president of one very large, strong and self-confident country also somehow expected that the coronavirus of stars with stripes would be scared, and now there are field morgues on the streets ... Judging by the fact that there is no further development received (and Minsk would have trumpeted such an victory from every iron!), these claims remained, sorry for rudeness, Wishlist, and no more. The calculations are much more similar to the truth, somewhat earlier (at the end of February, if I am not mistaken) voiced by the Russian Minister of Energy Alexander Novak. In accordance with them, Belarus will still receive discounts. But not at all in such unimaginable proportions as Rumasu sees it.
This could mean buying Belarusian crude oil at a market price minus the export duty and with the $ 5 so annoying Minsk "oil premium", which really will gradually decrease (at around $ 2 each year) until it is completely zeroed. At the same time, those domestic companies that, in pursuit of quick money, were ready to work with Belarusians without a prize right now, are not only pushing away from supplies, but will make them squeeze. There is nothing to accustom to a "freebie" ... Especially those who then begin to perceive it as a prerequisite. This, of course, Alexander Grigoryevich is terribly unnerving, but he has no particular options. In truth, not at all. All Minsk's attempts to find "alternative sources of supply" or, as one can now say, "diversify energy consumption", resulted, in fact, with a complete fiasco even before the global COVID-19 pandemic. Any oil, wherever and wherever it was purchased from, ultimately turned out to be just another illustration of popular wisdom "heifer over the sea is half, but the ruble is transported". Belarus, which did not have its ports, immediately found itself face to face with the most severe logistical problems of delivering to the refineries raw materials that were received at seemingly quite reasonable prices. And the volume of contracts concluded in comparison with the flow of "black gold", which is normal, came to the country from Russia year after year, looked simply ridiculous. In the end, transport costs ruthlessly "devoured" even that tiny (compared to working on Russian raw materials) oil producers' profits, which they had originally expected, turning any deal into complete nonsense. One way or another, it is necessary to come to an agreement with Moscow - Alexander Grigoryevich understood this a long time ago. And, nevertheless, he is desperately trying to grab both the wrong volume and this one.
Let's push Moscow together!
As already mentioned, Minsk is trying to connect other countries of the post-Soviet space to its frankly extorting activities, obviously, being confident that it will be easier to beat with the edge, even you know who. So, at the very end of March, a message appeared that President of Belarus Alexander Lukashenko and Prime Minister of Armenia Nikol Pashinyan had telephone conversations and "discussed the prices of fuel that countries import from Russia." According to the information published, "the leaders of the two countries stated that the price level for Russian natural gas is clearly overstated, and at the same time noted that it does not correspond to the world level of energy prices and the situation that is now generally developing in the world." How cute! Truly, to whom is war, and to whom is mother dear? What is characteristic, one of the "high contracting parties" at one time put its own signature on the agreement on the creation of the Union State with the very Russia that it is trying so hard to cash in on. As for Armenia, it is very interesting how comfortable and safe this country would have felt today without an uninterrupted supply of the most modern types of Russian weapons and the might of our army looming behind it, if Azerbaijan had neighbors very mildly unfriendly to it? By the way, the further, the more actively supported militarily by the same Turkey, which is still eager to play its game in the Caucasus. And there is no doubt at all that there was a certain conspiracy between Minsk and Yerevan. At least due to the fact that almost immediately after the talks "at the highest level", the Armenian side, already obviously inspired by the Belarusian experience, began to demand a reduction in prices.
So, according to the official report of the local government, Armenian Deputy Prime Minister Mher Grigoryan turned to the Russian side with a proposal to begin negotiations on reducing the price of imported gas. Moreover, in addition to lowering the price, Yerevan also wants to pay for "blue fuel" not in dollars, as it has been done up to now, but in Armenian drams. Very, you know, convertible currency ... Maybe you will pay sheep's skins right away ?! It is still not known for certain what Moscow's reaction to such unconditionally "attractive" proposals was, but there is no doubt that Gazprom and the Kremlin will definitely not be delighted with them. At the same time, the "argumentation" cites the moment that gas prices on spot markets in Europe "sank" - nowhere below, almost equal to the domestic ones. And here you are with us, you know, at $ 165 per thousand cubic meters, you "fight." Wow, how bad! We don't like it so much, let's bargain. No one bothered to explain the more than significant difference between the spot market and long-term contracts to smart people from Yerevan, or they did not hear all the explanations. Well, or they pretend that they didn't hear, trying to pretend to be such "simpletons". However, the main thing here is different. Lukashenko, not abandoning the attempt to get from Moscow the continuation of the paradise period of the "Belarusian emirates" that lasted too long, begins, let's say, to exert a bad influence on other partners of our country. Of course, we and Armenia do not have a union state in our thoughts, however, this country is a full member of the EAEU, CSTO, CIS ... Why these squabbles and discord, clearly provoked from Minsk?
At the same time, everyone, the remaining actions of Alexander Grigoryevich, which by no means can be described as friendly towards our country, continue. His extremely aggressive rhetoric, used in continuous criticism of the actions of the Russian authorities aimed at preventing the spread of the coronavirus epidemic, is not only that it borders on outright rudeness, but it is just that. What is the mere statement that the Belarusian president "would never want Minsk to turn into Moscow - an anthill in which people are like cockroaches"! Let us leave aside the depth of "knowledge" of Alexander Grigoryevich in entomology, although even a schoolchild knows who lives in anthills ... However, to compare the inhabitants of our capital with kitchen parasites is already, you know, too much even for Lukashenko! The fact that he is trying to "drive" COVID-19 with a hockey stick, while arguing that there is no epidemic, because "no one sees viruses that fly around," is his own business. Well, and of course, the inhabitants of Belarus, whom I sincerely and wholeheartedly wish for health. However, at the same time, to say disgusting things about the country, which he himself (however, recently more and more rarely) periodically calls "fraternal" - why is this?
Moreover, such kind of demarches are periodically accompanied by real distortion and distortion of real facts. As an example, one can cite the situation with how Lukashenko at the end of March began to tell heartbreaking stories about "large batches of Belarusian products" that some "Russian retailers" began to beg from his lap because of what allegedly erupted in our country " coronavirus psychosis. " Well, he helped, of course. He is so ... Generous and kind. Here are just no real evidence of these presidential tales was found, but after some 10 days something completely different became clear. It turns out that Belarus is one of the post-Soviet countries that turned to Russia with an official request for assistance in the fight against the pandemic. All the former Soviet republics (with the possible exception of Ukraine and Turkmenistan) would like to receive mechanical ventilation devices, medicines, and protective equipment for doctors from our country. This is normal. It's brotherly ... But how does the slander against the country look at against this background, asking for support and rallying extorting "coalitions" against it?